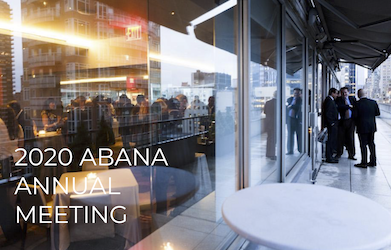 Caesar Maasry, Head of EM Cross-Asset Strategy at Goldman Sachs, kicked off the 2020 Annual Meeting of Members with an outlook on GlobalMarkets. ABANA Members can access the full presentation here.
ABANA Chairman Mahmoud Mamdani shared with members his takeaways from 2019 and how we can ensure greater success in the new year. ABANA Board Members, Mahmoud Salem, Khalid Azim and Hani Beyhum presented year-end reports on programs, membership and finances. We concluded with remarks from ABANA's Executive Director John Arege who provided his outlook for ABANA in 2020, emphasizing the need to keep building on the 3 pillars of our organization – to inform, connect, support .
Thank you to all who attended! We look forward to working with you on another year of great programming, and collaborations with new members and partners.
We are pleased to welcome the following directors to ABANA's board:
Zubaid Ahmad,  Founder & Managing Partner at Caravanserai Partners
Issa Baconi, Executive Vice President & Regional Manager at Arab Bank
Hani Barhoush, Executive Director at Mubadala Capital
Ferris Hussein, Managing Director at The Carlyle Group
Lotfi Karoui, Managing Director at Goldman Sachs
Amr Nosseir, Managing Director, Chairman & Head of Middle East Business Development & Investor Relations at CVC Capital Partners
Muthla AlSayer, Co-Founder & CEO at omniX Labs
Mahmoud Mamdani, Vice Chairman and Managing Director, Investment Banking Division at Morgan Stanley, was elected by the new Board to continue to serve as ABANA Chair for 2020.
The following Directors were appointed to serve on the Executive Committee:
The following Directors will be retiring from the Board as of 2020, many of whom have served and helped ABANA for the last six years. On behalf of the entire Board, Mahmoud Mamdani recognized and thanked them for their outstanding service: