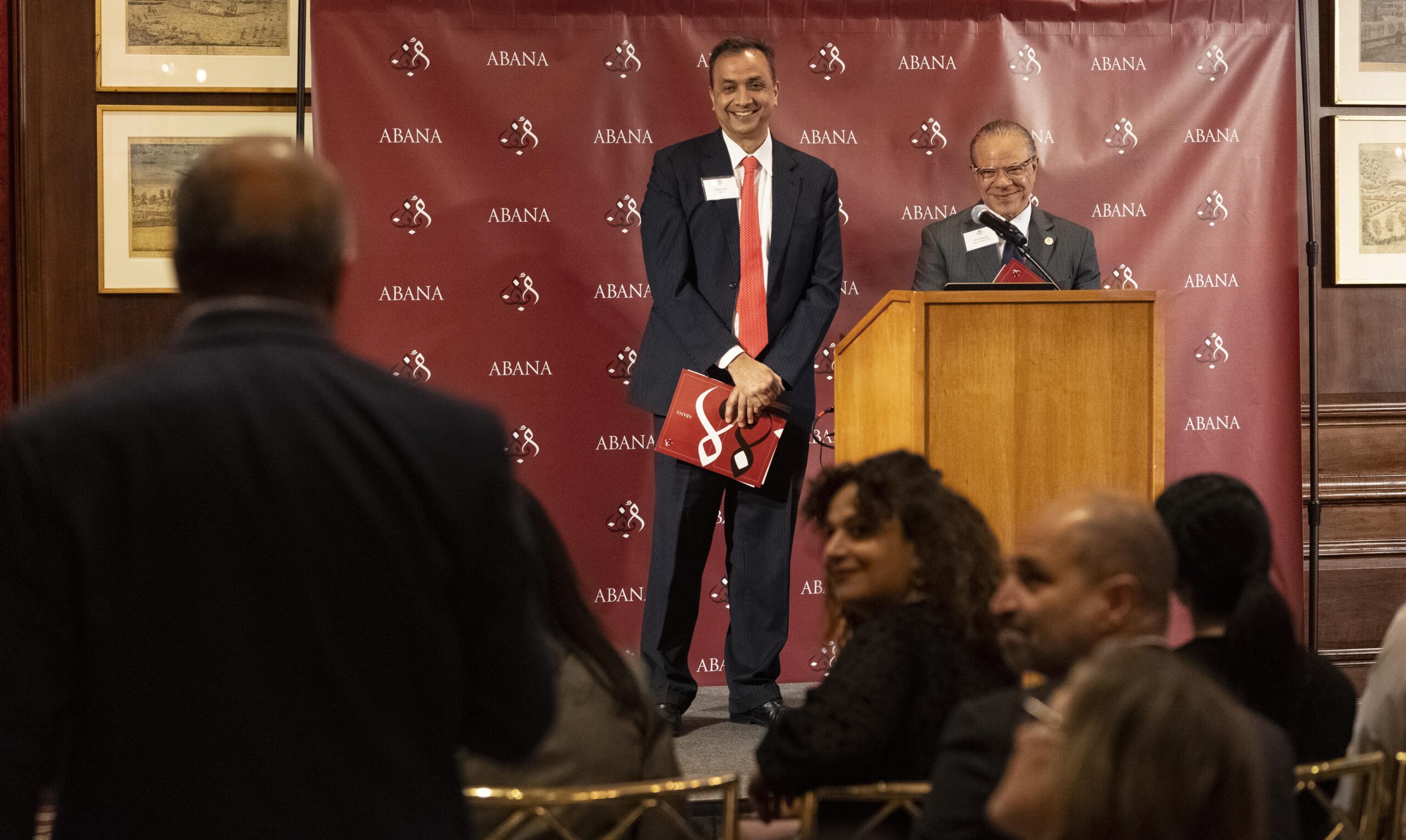 New York, 31 January 2023 – ABANA announced the election of four new and two returning directors to its Board of Directors, following a vote concluded at the Annual Meeting of Members on January 30, 2023, at the Harvard Club in New York City. Additionally, Amr Nosseir, ABANA Chair for the past two years, was elected by the board to stay on as Chair for another year, while Khalid Azim, outgoing ABANA board member and treasurer, was recognized as ABANA's incoming President.
The new directors, who will serve three-year terms, include:
ABANA re-elected two directors to the board for a second term:
Issa Baconi, Executive Vice President & Regional Manager, Arab Bank, departed the ABANA board after a long history of service to the association, including as a founding member, Chair, and multiple terms on the board.
ABANA also confirmed the following board officers: Joud Abdel Majeid, Deputy CFO, BlackRock — Vice Chair; Ferris Hussein, Managing Director, Carlyle — Vice Chair; Lotfi Karoui, Chief Credit Strategist, Goldman Sachs — Vice Chair; Laura Osman, President, Amunet Advisors — Vice Chair; Marwan Azzi, Partner, Gibson Dunn — Secretary; and Karim Baghdady, CEO, EFG Hermes USA — Treasurer.
ABANA Chair Amr Nosseir spoke about the "tremendous progress ABANA made in 2022, not only honoring H.E. Yasir Al-Rumayyan, Governor of the Public Investment Fund and Chairman of Saudi Aramco, at the 2022 ABANA Achievement Award Dinner; but also seeing strong growth in programs and in membership from prominent institutions and individuals in finance and investments between New York and the Middle East." Incoming ABANA President Khalid Azim told the gathered members, "It is a great honor to have been selected as President of ABANA, as well as an exciting challenge, as this year we celebrate ABANA's 40th anniversary and lay the groundwork for 40 more years of opportunity and community for the association and our members."
Other board members who spoke at the meeting included: Lotfi Karoui, who gave a global macroeconomic outlook; Ola El-Shawarby, Senior Investment Analyst, VanEck, who presented ABANA's 2022 membership report; Heather Ibrahim-Leathers, Founder & President, Global Fund for Widows, who presented the programs report; and Marwan Azzi, who announced the election results.
Newly-elected Directors:
Hamza Fassi-Fehri, Partner, Antin Infrastructure Partners
Hamza Fassi-Fehri is a Partner in the New York office of Antin Infrastructure Partners, a global private equity firm focused on infrastructure investments. Since he joined Antin in 2011, Mr. Fassi-Fehri has been involved in several investments in Europe and the U.S. across the energy, transport, digital and social infrastructure sectors. Prior to joining Antin, he started his career in Europe on the investment banking team of JPMorgan. He graduated from the "Grande Ecole" program of HEC Paris in 2008.
Omar Jabri, Principal, Lexington Partners
Omar Jabri is a New York based Principal at Lexington Partners, a global leader in private equity secondaries and co-investment funds. Mr. Jabri is primarily engaged in the sourcing and execution of direct co-investment opportunities in growth and buyout transactions. Prior to joining Lexington Partners, Mr. Jabri was an investment banking analyst at Evercore Partners where he focused on M&A, restructuring and financial services transactions. He received an Honors Business Administration degree with distinction from Ivey Business School at Western University in London, Ontario.
Amal Moussa, Managing Director, Goldman Sachs
Amal Moussa is a Managing Director at Goldman Sachs where she leads the Single Stocks Exotic Derivatives Trading team in New York. Prior to that, Amal held senior level positions in equity derivatives trading at J.P. Morgan, UBS and Citigroup. In addition to her work in Markets, Amal is an Adjunct Professor at Columbia University where she teaches a graduate course on Modeling and Trading Derivatives in the Mathematics of Finance Masters program. Amal has a Ph.D. in Statistics from Columbia University. Amal also graduated with a Masters in Mathematical Finance from Sorbonne Université (former Paris VI) and a Grande Ecole engineering degree from Télécom Paris.
May Nasrallah, Founder and Executive Chairman, deNovo Corporate Advisors
May Nasrallah is the Founder and Executive Chairman of deNovo Corporate Advisors, an independent, Middle-East focused, corporate finance advisory firm, offering international bulge bracket expertise to MENA-wide and centric corporates and institutions. May has also served as a non-Executive Chairman and Senior Advisor to BlackRock across the Middle East region, between 2020 and 2022. Prior to founding deNovo, May spent over 15 years at Morgan Stanley in numerous Investment Banking roles and geographies including New York, Hong Kong, London and Dubai. May graduated from the Massachusetts Institute of Technology with Dual Degrees: a Bachelor of Science in Economics and a Bachelor of Science in Political Science. May further received her Masters in Management and Finance from MIT's Sloan School of Management.
Re-elected Directors:
Ferris Hussein, Managing Director, Carlyle
Ferris Hussein is a Managing Director at Carlyle focused on global infrastructure and energy opportunities. He is based in Washington, DC. Prior to joining Carlyle, Mr. Hussein served as a Vice President of ExxonMobil, where he oversaw acquisition strategy. Prior to ExxonMobil, Mr. Hussein served as an Attorney for the Republic of Iraq and, prior to that, for the U.S. Department of Justice. Mr. Hussein received his MBA from The Wharton School at the University of Pennsylvania, JD from University of Virginia School of Law and BA from University of Michigan.
Amr Nosseir, Senior Advisor, Clayton Dubilier & Rice
Amr Nosseir serves as Senior Advisor, Investor Relations and Capital Formation at Clayton Dubilier & Rice. He joined the firm in March 2022 with the responsibility for capital formation throughout the Middle East, Near Asia, and other select geographies; and client coverage responsibilities for all major institutional investors. Prior to joining Clayton Dubilier & Rice, Mr. Nosseir was Managing Director, Chairman, and Head of Middle East Business Development and Investor Relations at CVC Capital Partners. Previously, he was a Founding Partner and Chairman-Middle East at Perella Weinberg Partners (PWP). Mr. Nosseir also spent nearly 16 years at Morgan Stanley beginning in 1990 as Vice President, spending 12 years as head of Morgan Stanley's Middle East Group where he was a Managing Director. Mr. Nosseir earned an MBA from Columbia Business School and a BA from Colgate University.
Incoming ABANA President:
Khalid Azim, President, ABANA
Khalid was most recently a senior administrator at Columbia Business School where he was intimately involved with new curriculum development centered on industry practitioner engagement, and he also created a highly successful lifelong learning initiative. In addition, he has deep US and international experience as a financial services professional at Morgan Stanley and UBS Investment Bank. Khalid also served as an officer in the US Navy on a fast attack nuclear-powered submarine and a surface ship and is a veteran of the first Gulf War. He is also a former White House Fellow who served during President Clinton's second term in office. He has a BA in English from Pitzer College (Claremont Colleges) and an MBA from the Darden School of Business Administration at the University of Virginia.