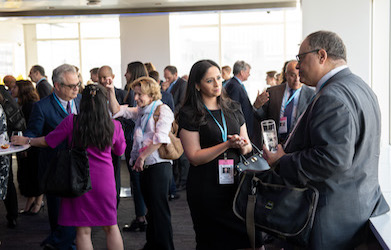 On May 2, 2019, ABANA held a very successful Summit focused on geopolitical risks in the MENA, and their impact on overall economic growth and innovation in the region.
We were delighted to share with our guests the diverse & expert views of politicians, analysts, entrepreneurs, investors, emerging markets' strategists and academics including Ellen Laipson, Director, George Mason Univeristy; Wally Adeyemo, Senior Adviser, BlackRock; Jean Francois Seznec, Professor, John Hopkins University; Jad Salame, Founder & Managing Director, Phoenician Funds; Ayah Bdeir, Founder & CEO, littleBits; Alexis Crow, Lead, Geopolitical Investing Practice, PwC; Caesar Maasry, Head of EM Cross Asset Research & Managing Director, Goldman Sachs; Damian Sassower, Chief EM Credit Strategist, Bloomberg Intelligence.
We will be sharing video coverage of the panels next week, so make sure to check out the ABANA website for updates and a full recap of the event.
On behalf of the Summit's Organizing Committee and the entire ABANA team, we would like to thank you for making this year's ABANA Summit @ Bloomberg a great success!
thank you
شكرا
آپ کا شکریہ
متشکرم
teşekkür ederim!
We hope that you will be able to join us at the 2020 ABANA Summit @ Bloomberg! To help us prepare an even better program next year, please take this 3-minute survey with your feedback and suggestions.