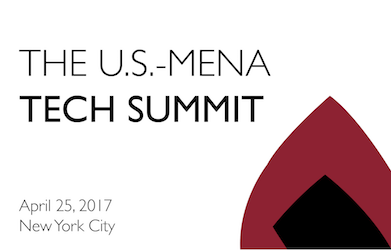 New York, NY (April 3, 2017) – The US-MENA Tech Summit, the first investing conference of its kind, will launch in New York on April 25th. This is the debut of an annual series of summits focused on sovereign wealth funds, institutional investors, family offices, venture capitalists, and entrepreneurs interested in technology-driven entrepreneurship and with ties to the Middle East and North Africa (MENA) region. The event is being organized by ABANA, the Harvard Business School Alumni Angels of New York (HBSAANY), HOF Capital, and the Harvard Arab Alumni Association.
Highlights of the program include a Startup Showcase (presented by HBSAANY) in which qualifying entrepreneurs will present their businesses to leading venture capitalists and angels. In addition, the summit will feature a panel of high-profile investors and senior leaders discussing how financial technology innovators are fomenting change in traditional financial services institutions. The Showcase is focused on US-based founders with ties to the MENA region.
"Fostering inclusion and welcoming diversity has never been more important. It's not only the right thing to do; it's the smart thing from a business standpoint. This new event showcasing MENA-linked startups is an extension of HBSAANY's 5-year-old program focused on helping women and diverse entrepreneurs raise capital," said Sharjeel A. Kashmir, Board Member and Screening Co-Chair of HBSAANY.
Immigrants from MENA and their children have made many significant contributions to the U.S. technology industry, including prominent names such as: Steve Jobs, Co-Founder, Apple; Johnny Srouji, SVP hardware technologies, Apple; Osama Bedier, Founder and CEO, Poynt; Shaygan Kheradpir, CEO, Coriant; Mo Al Adham, Co-Founder and former CEO, Telly; Bassel Ojjeh, CEO, LigaData; Osman Rashid, Founder and CEO, Galxyz; Fadi Bishara, founder and CEO, Blackbox; Omid Kordestani, Executive Chairman, Twitter; Pierre Omidyar, founder, e-Bay; Noubar Efeyan, founder, Moderna Therapeutics; Amr Awadallah, founder, Cloudera; David Hindawi, founder, Tanium; and, Iqram Mogadon-Ismail, Founder, Venmo.
"ABANA is impressed with the longstanding MENA contributions to growing the US tech sector and the surge of early stage companies taking off both in the MENA region and in the US by MENA immigrants. We have seen an increasing number of our members invest in these ventures. The MENA Tech Summit is a perfect complement to our annual ABANA Summit @ Bloomberg, bringing focus to this new area of growth both in the region and amongst Arab-American and other diaspora groups in the US," says Zineb Guessous, ABANA Board member and Managing Partner of Almena Partners LLC and Africa Alternatives LLC.
Onsi Sawiris, HOF Capital Co-Founder & Managing Partner, says, "The current growth of MENA markets is strong. As a result, we have been unlocking major new revenue streams for HOF portfolio companies. Some recent examples of our portfolio companies selling to MENA include Regalii, a cross-border bill-pay solution, and Starship Technologies, which is aiming to debut its autonomous delivery robots at the upcoming Dubai Future Expo. We are very excited to show US-based entrepreneurs and investors the opportunity for scale in the MENA region."
The summit is hosted by:
– ABANA  – the preeminent U.S. organization for finance professionals and institutions with interest in the Middle East & North Africa;
– Harvard Business School Alumni Angels of New York – the largest angel investor group on the East Coast;
– Harvard Arab Alumni Association – the network of Harvard alumni with interest in the Arab world; and
– HOF Capital – an internationally-focused early-stage VC backed by leading corporations in 8 countries.
Additional organizing partners include: MIT Arab Student Organisation, TechWadi, RISE Egypt and NUMA.
Register here: https://www.abana.co/events/all/2017-us-mena-tech-summit/.
Apply for the Startup Showcase here: http://gust.com/programs/hbsaany-harvard-arab-alumns-pitch-showcase-event-in-nyc-april-25.
***
Media Contact: Zainab Al Dabbagh | zaldabbagh@abana.co | 1.212.599.3030 ext. 2