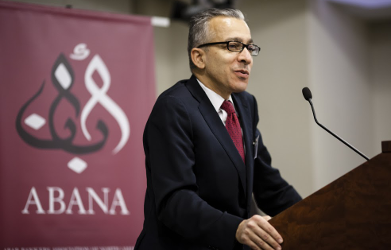 Dr. Amer Bisat, Managing Partner at BlackRock, was re-elected President of the Arab Bankers Association of North America (ABANA) following the Association's annual meeting on January 22nd.
Dr. Bisat is a Managing Director at BlackRock, where he manages portfolios of Emerging Markets fixed income investments. Prior to that, Dr. Bisat was a partner at two macro hedge funds (Traxis and Rubicon) and held portfolio management positions at Morgan Stanley and UBS. From 1991-98, he was a senior economist at the International Monetary Fund. Dr. Bisat is also an adjunct professor of International Monetary Theory at Columbia University. He has served on the ABANA board of directors since 2010 and is beginning his second one-year term as president.
Also announced at the meeting were four new directors, each of whom was elected to a three-year term on the 20-person ABANA board:
Hani Habbas is a principal at the Solajan Group, a family-affiliated business specializing in project and business development, direct investments including early stage ventures, and providing corporate finance and strategic advisory services.
Samaa A. Haridi is a partner in the International Arbitration practice of Weil, Gotshal & Manges. Her practice focuses on complex international litigation and arbitration proceedings involving joint ventures, international investments, service agreements, construction projects, contracts, banking and securities.
Omar Wohabe is a partner of Wohabe Law Offices LLP, which serves private-sector and public-sector clients from the Arab Gulf with respect to diverse domestic and international transactions and activities, and clients from other jurisdictions with respect to their business interests in the Gulf.
Abbas F. ("Eddy") Zuaiter is a Managing Member of Zuaiter Capital Holdings, LLC, a Greenwich, CT-based private family office. He also serves as Chairman of the Board of Directors of Adecoagro, SA and is a member of the Board of the Arab Bank (Suisse).
The meeting was the culmination of a positive year for the Association, as summarized in year-end reports presented by ABANA President Amer Bisat, Vice President Sami Idliby, Assistant Treasurer Zineb Guessous and Treasurer Mohannad Aama. Among the highlights were:
ABANA's membership grew moderately in 2013, with record-high membership of 628 professionals and 81 member institutions. As in past years, the organization suffers from significant turnover, which the Board aims to focus on in 2014.
Two high-profile award dinners, honoring Hutham S. Olayan and Mohamed Ali Alabbar, respectively, highlighted important figures in the ABANA community, with the added distinction of honoring one of ABANA's founders, Ms. Olayan, on the occasion of the Association's 30th anniversary.
2013 was a record year for ABANA event attendance, with over 1,800 attendees at 26 ABANA programs.
New communications tools, including ABANA's new website and more frequent online event coverage, were a significant project in 2013, and have now been launched.
ABANA is a fiscally healthy organization, with sufficient reserves to weather the occasional year, like 2012, when we incur a loss.
Objectives for 2014 include Institutionalization, including establishment of an advisory council; greater Intellectual content of programs; and further Internationalization.
Finally, Dr. Bisat and the members recognized the outstanding service of four two-term directors who stepped down from the ABANA board:
Salim Abboud, Vice President and Head of Business Development, Interaudi Bank
Kitty Cushing, Managing Principal, 7Sisters LLC
Karim Tabet, Founding Partner, TAP Advisors
Mahmoud Mamdani, Managing Director, Morgan Stanley