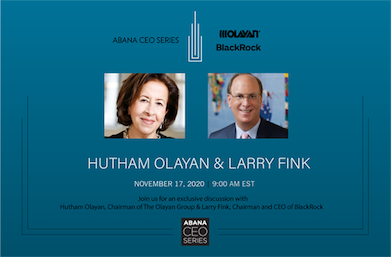 Date November 17, 2020, 9:00 am
We hope you will be able to join us for this unique event with two ABANA Achievement Award recipients, Hutham S. Olayan, Founding Member of ABANA & Chairman of The Olayan Group, and Larry Fink, Founder, Chairman & CEO of BlackRock.
This event is a special edition of ABANA's CEO Series, and will take place on November 17th at 9:00 AM (EST) on Zoom.
Please email [email protected] if you would like to RSVP and if you have any questions.