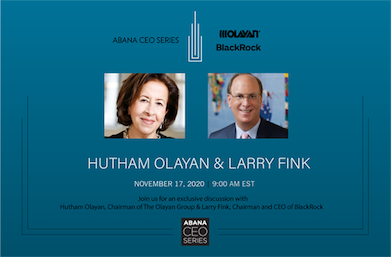 Date November 17, 2020, 9:00 am
The ABANA CEO Series will provide an exclusive look at how CEOs have been working with their firms to advance through the COVID-19 crisis, and how they envision the future of the finance industry.
We are excited to announce that we'll be continuing the series with Hutham S. Olayan, Chairman of The Olayan Group and Laurence D. Fink, CEO and Chairman of BlackRock on November 17th at 9:00 AM (EST).
Please email [email protected] if you would like to RSVP and if you have any questions.