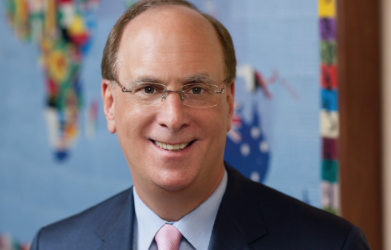 Chairman & CEO
BlackRock
Larry Fink, Founder, Chairman and Chief Executive Officer of BlackRock, also leads the Global Executive Committee.
Mr. Fink has led the firm since its founding in 1988, keeping client centric solutions and innovation at the forefront of his leadership. He was named "CEO of the Decade" by Financial News in 2011 and has been named one of the "World's Best CEO's" by Barron's for nine consecutive years.
Prior to founding BlackRock in 1988, Mr. Fink was a member of the Management Committee and a Managing Director of The First Boston Corporation. Mr. Fink joined First Boston in 1976 and quickly became one of the first mortgage-backed securities traders on Wall Street. During his tenure at First Boston, Mr. Fink was co-head of the Taxable Fixed Income Division, which was responsible for trading and distribution of all government, mortgage and corporate securities. Mr. Fink also started the Financial Futures and Options Department and headed the Mortgage and Real Estate Products Group.
Mr. Fink serves as a member of the Board of Trustees of New York University and is Co-Chairman of the NYU Langone Medical Center Board of Trustees. Mr. Fink also serves on the Boards of The Museum of Modern Art (MoMA), the Council on Foreign Relations and Robin Hood, the New York City charitable organization. He is also an Executive Committee member of The Partnership for New York City, which works to engage the business community in efforts to advance the City's economy and maintain its position as the center of world commerce, finance and innovation.
Mr. Fink earned an MBA degree with a concentration in real estate from the University of California at Los Angeles (UCLA) in 1976 and a BA degree in political science from UCLA in 1974.
Profile as of 3/14/2016