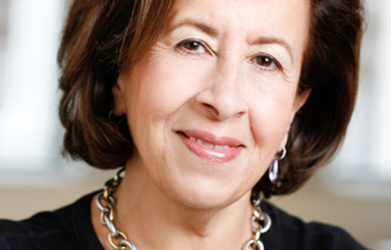 Chairman
The Olayan Group
Hutham S. Olayan is a principal, director and senior executive of The Olayan Group. Founded in 1947, the Group is a private, multinational enterprise that is both a global investor and diversified commercial and industrial business in Saudi Arabia and the wider Middle East.
Ms. Olayan has headed The Olayan Group's US presence since 1985, currently as president and CEO of Olayan America and other US affiliates of the Group. She is responsible for all of the Group's investment activity in the Americas, overseeing a substantial portfolio of public and private equities, real estate and other specialized assets.
Ms. Olayan is a director of Morgan Stanley and a former director of Thermo Electron Corporation. She is a member of the Executive Advisory Board of General Atlantic.
In the non-profit sector, Ms. Olayan serves on the boards of the American University of Beirut, Peter G. Peterson Institute for International Economics, Memorial Sloan-Kettering Cancer Center and The MasterCard Foundation.
Ms. Olayan is a member of international advisory bodies affiliated with The Brookings Institution and Carnegie Middle East Center. She is a member of the Council on Foreign Relations and a founding member of the Arab Bankers Association of North America.
Profile as of 08/13/2018