ABANA is proud to announce the Georgetown University McDonough School of Business students participating in the ABANA Program Fellowship to be held in conjunction with this year's Celebration of Women in Finance & Investment.
Participating fellows, some of whom will be sponsored by participating institutions, will receive a 1-year complimentary ABANA Student Membership and the opportunity of having their CV included in an ABANA resume book that will be distributed to our members and conference attendees.
The ABANA Program Fellow from Georgetown University's McDonough School of Business are: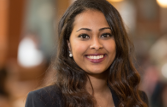 Sahar Sewaralthahab earned her bachelors degree in Masters of Science in Business Administration – Concentration: Finance from the American University of Sharjah in 2012. She then moved back home, to Saudi Arabia, where she started working for Saudi Fransi Capital as an Analyst in their Investment Banking department. She worked on several transactions ranging from IPOs to M&As and Rights Issues and was the lead analyst in the transaction team that closed the Abdulmohsen Al Hokair Group IPO in June of 2013. She was also involved in an M&A deal with a major telecommunications company in Saudi Arabia that did not fall through because of regulatory issues. Most recently, Sahar was the lead analyst on the Suleiman Al Habib Group IPO. Sahar then moved to the US to join McDonough School of Business (MSB) to earn her MBA degree. After her MBA, she plans to return to the financial services industry, specifically investment banking.