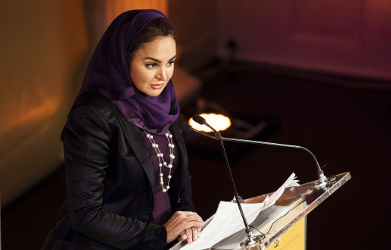 When
October 14, 2015 - October 15, 2015
5:30pm - 2:00pm
Where
583 Park
583 Park Avenue
New York NY
Video coverage now available.
For exclusive ABANA member access to the Mary Callahan Erdoes and Martin Wolf conversation, click
here
.
Chaired by:
Hutham S. Olayan President & CEO, Olayan America
Keynote speakers include:
H.E. Sheikha Hanadi Nasser Bin Khaled Al Thani Founder and Chairperson, Amwal
Karen Peetz President, BNY Mellon
Mary Callahan Erdoes CEO, JPMorgan Chase Asset Management
Pauline Brown Chair – North America, LVMH
Emily Rafferty Chair, Federal Reserve Bank of New York
President Emerita, Metropolitan Museum of Art
ABANA's annual dinner is the premiere New York City event for the international financial community active between the US and the MENA region. The program's opening dinner on October 14 is an important occasion for our leadership–both men and women–to celebrate the valuable relationships between North America and the Middle East. For 2015, we have expanded the program to include a half-day conference, recognizing and convening some of the most prominent and successful female investors and heads of financial institutions in the Middle East and the US.
Wednesday, October 14, 2015 5:30 – 9:00 pm
Thursday, October 15, 2015 7:45 am – 2:00 pm
Our sponsors include:
ABANA thanks our generous gift sponsors:
Registration
Online registrations are now closed for this event. Contact ABANA at 1 212 599 3030 or rsvp@abana.co for last-minute registrations or questions.