Babson College Students Participate in ABANA Program Fellowship
ABANA is proud to announce the F.W. Olin School of Business at Babson College students participating in the ABANA Program Fellowship to be held in conjunction with this year's Celebration of Women in Finance & Investment.
Participating fellows, some of whom will be sponsored by participating institutions, will receive a 1-year complimentary ABANA Student Membership and the opportunity of having their CV included in an ABANA resume book that will be distributed to our members and conference attendees.
The ABANA Program Fellows from F.W. Olin School of Business at Babson College are: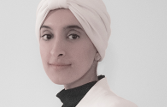 Saja Alhussein