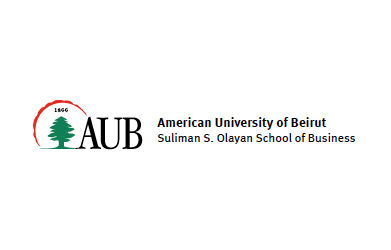 ABANA is proud to announce the American University of Beirut Suliman S. Olayan School of Business students participating in the ABANA Program Fellowship to be held in conjunction with this year's Celebration of Women in Finance & Investment.
Participating fellows, some of whom will be sponsored by participating institutions, will receive a 1-year complimentary ABANA Student Membership and the opportunity of having their CV included in an ABANA resume book that will be distributed to our members and conference attendees.
The ABANA Program Fellows from American University of Beirut Suliman S. Olayan School of Business are: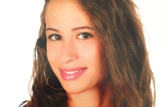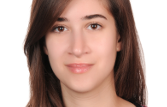 Faten Abdel Ahad is a strategic, multidisciplinary communication designer and art director who enjoys the creative challenge and continuously pushes herself to produce the best work possible. Alongside her job, Faten is an MBA candidate at the American University of Beirut (AUB), where she fulfills her personal interests in marketing, management, and entrepreneurship concepts and persists to make a major leap in her professional learning curve. Helping business AUB professors with various types of research, she finances seventy percent of her MBA tuition. As part of her MBA, Faten won 'Hikma Pharmaceuticals Valuation Project' ($1,500 prize) in 2014 and later in 2015, was a finalist in AUB's 'Darwazah Student Innovation Contest'. In addition, and due to her outstanding performance, as of 2015 Faten became a lifetime member in Beta Gamma Sigma, the International Honor Society recognizing business excellence. As a last requirement of the MBA program, Faten is currently working on her final MBA project, developing a full-fledge Communications Strategy and a Crisis Communication Plan for the AUB Neighborhood Initiative, an initiative established in 2007 to lead AUB's engagement with its neighborhood.
Earlier in 2008, Faten earned and With Distinction a Bachelor of Fine Arts Degree in Graphic Design from Notre Dame University, Lebanon. In the start of her career, she worked in different advertising agencies where she built her skill set, acquired an eye for detail, and got a view on the design process from start to finish. Next, she became the in-house designer of a huge insurance company, handling its design and advertising projects from conceptualization to completion. She is proud to have succeeded in ameliorating the company's brand image and enhancing its professional appearance through a sophisticated and updated design identity.
In general terms, Faten's diverse work experiences have taught her how to efficiently present creative solutions to various business problems while working both independently and as part of a team. Her MBA on the other hand, broadened her knowledge of business concepts and helped her comprehend the management aptitudes and decision-making strategies necessary to assume high responsibilities and managerial posts. Furthermore, it promoted in her the entrepreneurial spirit necessary for attempting viable business ventures – a long-term plan which she, just like any other ambitious person, contemplate doing in their home country.
Shireen Makarem is currently a Communications Coordinator in the Department of Strategic Planning and Communications at the American University of Beirut Medical Center (AUBMC), Lebanon were she manages and coordinates key communications functions for the medical center. Aside from her day to day job, Shireen is also an MBA candidate at the Olayan School of Business at the American University of Beirut (AUB) were she works closely with several faculty members on projects related to gender and management in Lebanon.
She has been actively engaged in social work programs to assist Syrian families, children and individuals with social, financial and medical issues in Lebanon. She has been selected to be a Netherlands Fellowship Programmes (NFP) fellow to promote capacity building in her home country. She attended a course titled 'Managing Sustainable Development' at Maastricht School of Management were she analyzed concepts of sustainable environmental, economic and social development and shared experiences with experts and practitioners from around the world.
Being directly influenced by the prevailing political and economic dynamics that rule her home country, Lebanon, entrusted Shireen with a deep connection to serve as a secretariat member in the Model United Nations (MUN) program in Lebanon. She has managed, trained and observed thousands of high school students getting hands-on knowledge on democracy, negotiation and communication. Her active commitment to the MUN program enabled her to participate in several international conferences. Among several national and international conferences, she represented "Democracy Watch", a national non-profit, non-partisan organization, and Canada's leading citizen group advocating democratic reform, government accountability and corporate responsibility, in the Harvard National MUN that took place in February, 2013.