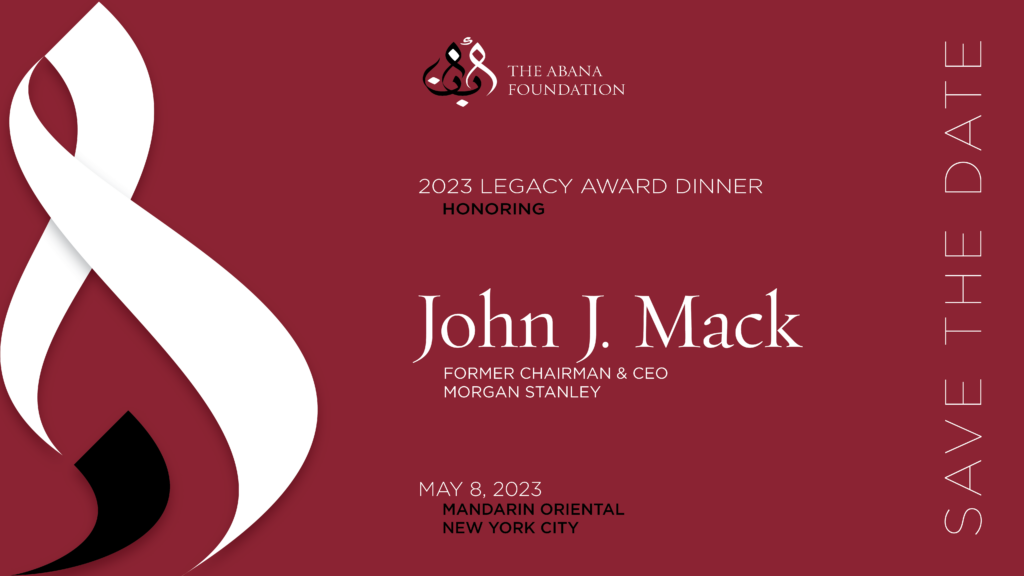 February 23, 2023
On May 8, 2023, the ABANA Foundation will honor John Mack, former Chairman and CEO of Morgan Stanley, with the first-ever Legacy Award, at the Mandarin Oriental in New York City. This award intends to recognize leaders who – over the course of their career – have made an extraordinary impact on the finance and investment industry and positively influenced the US Arab and Middle Eastern community. In accepting the award, John Mack will join a fireside chat with David Rubenstein, Co-Founder & Co-Chairman, Carlyle, to reflect on his own life and legacy. He will be introduced by James Gorman, Chairman & CEO, Morgan Stanley (via video), and Mayree Clark, Independent Director and former Morgan Stanley Executive.
Proceeds from the event will raise money for the ABANA Fellowship, through the ABANA Foundation, ABANA's 501(c)(3) charitable arm. The Fellowship will sponsor rising young talent with a stipend for graduate studies along with access to all ABANA events and a summit designed to inform and connect these fellows to senior professionals in emerging industries.
For more details on the agenda, tickets, and sponsorship, please visit our event page. You can also make a direct donation here.
The ABANA Foundation
The ABANA Foundation is a 501(c)(3) charitable subsidiary of ABANA and was established to provide relief to the underprivileged, promote the social welfare and the advancement of education, and eliminate prejudice and discrimination, through scholarships and educational support, educational events, educational literature, and pursuing other charitable causes.
Seed-funding for the ABANA Foundation will be provided by proceeds from the 2023 ABANA Legacy Award Dinner honoring John Mack, former Chairman & CEO, Morgan Stanley. These funds will be used to institutionalize and expand the ABANA Fellowship Program as the newly christened John Mack ABANA Fellowship Program.
The ABANA Fellowship Program
The ABANA Fellowship was established nearly 10 years ago to support Arab and Arab-American MBA students in the US. Every year, ABANA selects a cohort of students who participate in a two-day program. The program includes meetings with leading financial institutions and ABANA Board Members, introductions to mentors, and opportunities to network with key players in the financial services and investment management industries. The fellows also participate in the annual ABANA Achievement Award Dinner and receive a one-year complimentary student membership and access to all ABANA membership benefits. Many fellows have gone on to find full-time careers through connections they have made through the program. Many also return as ABANA members on their own once their one-year membership expires.
Thanks to support from John Mack and proceeds from the Legacy Award Dinner in his honor, the ABANA Fellowship Program will expand on these roots.
Run under the auspices of the ABANA Foundation, the fellowship will target graduate students in their second year. It will have a competitive application process inviting students with a demonstrated interest in the Middle East and North Africa who intend to pursue a business or financial career to participate. The students selected will each receive a stipend to support their graduate studies. They will also be given ABANA memberships and granted access to ABANA's network and all ABANA events. Most importantly, all fellows will participate in an annual summit designed to connect the fellows to senior professionals in ABANA's network in finance and investing, private equity and venture capital, real estate, law and consulting, entrepreneurship, technology, and more. This summit will be hosted in New York City and the ABANA Foundation will cover all lodging, and food costs.
The fellowship is an opportunity for ABANA to give back to its community while maintaining links to its core mission and vision: bridging and empowering the finance community active between North America and the Middle East.