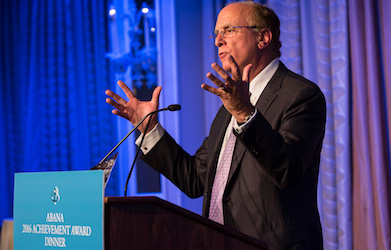 Larry Fink, Chairman and CEO of BlackRock, accepted the 2016 ABANA Achievement Award in New York City on Monday, October 10th. The award recognizes an individual who exemplifies outstanding leadership in banking and finance and who has displayed a proven commitment to positive professional cooperation between the US and the Middle East and North Africa.
ABANA Chairperson Mona Aboelnaga Kanaan pointed out that this is only the second time in thirty years that ABANA, founded in 1983 as the "Arab Bankers Association of North America," has given the award to a non-Arab recipient. "That ABANA's Board enthusiastically selected Larry Fink as this year's recipient is a testament to his outsized influence on the industry in which we all work. Under his leadership, BlackRock has moved from asset gatherer to true asset allocation advisor, and he now often gets the 'first call' from decision and policy makers all over the world — and certainly from the Middle East."
In his acceptance speech, Fink said: "[This award] means a great deal to me, but it also says a great deal about our shared potential – our ability to build on our common strengths and create greater economic opportunity in the Middle East…. We cannot ignore the mistrust between our regions, our religions, our nations…. We must build bridges between governments, strengthen our economic ties, and encourage dialogue among our young people. But most importantly, we have to be willing to forge relationships that go beyond the transactional, deepening our ties with true friendship."
H.E. Anas K. Al Saleh, Deputy Prime Minister, Minister of Finance, and Acting Minister of Oil for the State of Kuwait, introduced Mr. Fink; and ABANA board member Ali Velshi was master of ceremonies for the event.
Among the over 400 guests at the award dinner were several previous recipients of the ABANA Achievement Award—Mohammed El Erian, Hutham Olayan, Bader Al Sa'ad and Richard Debs.