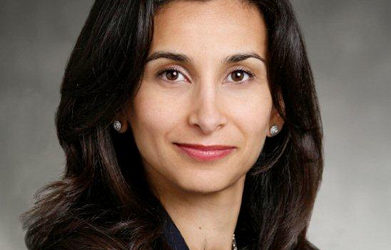 At ABANA's January 20, 2016, annual meeting, the Association's membership elected eight new directors to its board. The new directors join a 20-person body of finance professionals who serve three-year terms leading ABANA. Those elected:
The Board reelected Mona Aboelnaga Kanaan, Managing Partner at K6 Investments LLC, to a second year as Chairperson. Ms. Aboelnaga Kanaan has been a successful serial entrepreneur and investor for over 20 years. She serves as Managing Partner of K6 Investments, a private investment firm she founded to invest in a wide array of industries including financial services, technology, luxury and entertainment. K6 also advises institutional and strategic investors as they expand globally into these industries. Previously, Mona was President and CEO of Proctor Investment Managers, a firm she co-founded in 2002 to take advantage of private equity investment opportunities in the traditional and alternative asset management industry. After taking Proctor from start up to success, Ms. Aboelnaga Kanaan sold the firm to National Bank of Canada in 2006 and continued as Proctor's CEO until 2013.
Ms. Aboelnaga Kanaan, Director George Jalinos, Board Secretary Sherif Lotfi, Treasurer Zineb Guessous, and President Susan Peters reported to the membership at the meeting, highlighting a year of accomplishment for the organization. In 2015, ABANA hosted over 1,800 guests at programs ranging from its second annual ABANA Summit @ Bloomberg and a 2-day Celebration of Women in Finance & Investment to series' of smaller meetings and roundtables for business leaders and emerging professionals. This year also saw the launch of the ABANA Fellows Program, which brought a cohort of Arab and Arab-American MBA students to a 2-day program in NYC. The organization restructured its officers to better reflect functional roles and also recognize the accomplishments of its longtime staff leader Susan Peters. Looking forward, Ms. Peters shared plans for the addition of ABANA membership options, an expansion of programming and sponsorship opportunities and a re-envisioning of ABANA and its mission, to be announced in 2016.
At the close of the meeting, Ms. Aboelnaga Kanaan recognized the tremendous contributions of outgoing ABANA directors, each of whom had served six years on the Board:
Karim Babay, President and Chief Investment Officer, Intrinsic Value Investment Partners
Dr. Amer Bisat, Managing Director, BlackRock
A. Sami Idliby

, Managing Director, UBS

Sherif Lotfi, Managing Director, Mizuho Securities USA Inc.
Amr Nosseir, Senior Managing Director, CVC Capital Partners
Faye Samaha-Golub, Managing Director, CIBC World Markets
For additional information, please contact 1 212 599 3030 x 3 or raqel @ arabbankers.org.