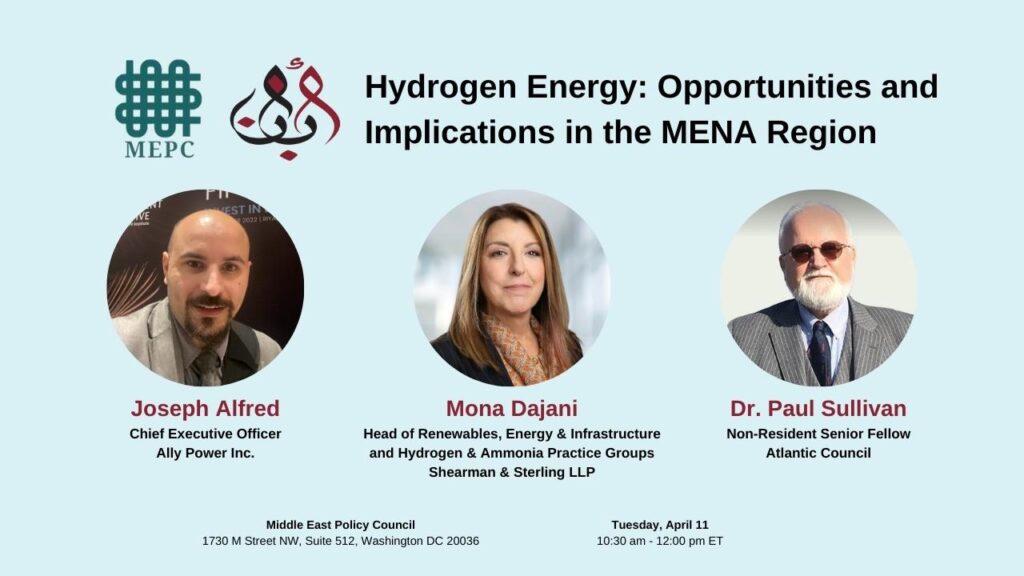 When
April 11, 2023
10:30am - 12:00pm
Where
Middle East Policy Council
1730 M Street NW, Suite 512
Washington DC
ABANA, in partnership with the Middle East Policy Council (MEPC), hosted a conversation with Joseph (Walt) Alfred, CEO, Ally Power Inc., Mona Dajani, Global Head of Renewables, Energy & Infrastructure and Hydrogen & Ammonia Practice groups, Shearman & Sterling LLP; and Dr. Paul Sullivan, Non–Resident Senior Fellow with the Atlantic Council's Global Energy Center, on the opportunities and implications of Hydrogen energy in the region.
The two regionally hosted United Nations Climate Change Conferences, COP27 in 2022 and soon to come COP28 in 2023 have driven the region to divert its attention to Hydrogen Energy. Countries like Morocco and Oman are pushing for the establishment of Green Hydrogen Energy. While other countries like Egypt, Saudi Arabia and the UAE are moving towards becoming exporters to Europe and Asia in addition to joint initiatives with the US.
This exclusive briefing from our experts was on Tuesday, April 11 at MEPC's offices in DC.
Registration
Online registrations are now closed for this event. Contact ABANA at 1 212 599 3030 or rsvp@abana.co for last-minute registrations or questions.