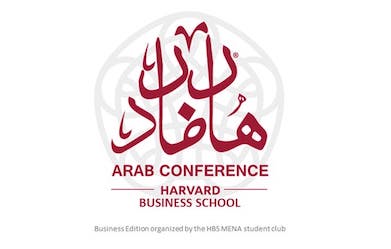 When
November 9, 2019 - November 10, 2019
10:00am - 6:30pm
Where
Harvard University
-
Cambridge MA
ABANA is pleased to be an official partner of the Arab Conference at Harvard happening on November 9th and 10th at Klarman Hall on the Harvard Business School Campus.
The theme of this year's business edition of the conference will be: "Preparing the Arab World for the Fourth Industrial Revolution".
The 2019 rendition of the conference at Harvard Business School will seek to promote unity among Arab and global communities and dispatch a call for action to its participants to translate diverse ideas into concrete solutions, in hopes of a shared and vibrant future for the region and the world at-large.
This year, the conference will include several panels and workshops spanning topics prominent to the region including industry and tech transformation as well as investments and markets in the Arab world. The conference will also feature a startup pitch competition allowing Arab entrepreneurs to showcase their early stage ventures and will provide an opportunity for networking between speakers and attendees.
The Arab Conference at Harvard brings together hundreds of Harvard alumni, faculty, business and societal leaders to discuss key opportunities and issues related to the Arab region. It is one of the largest pan-Arab conferences outside the region, bringing together students and professionals, and has prided itself on showcasing a myriad of perspectives and insights on the most pressing business and economic issues of the region. Read more. 
ABANA members will receive a discounted ticket price using a secret code. Please email Nada Ezzat at nezzat@abana.co to obtain it.
To register for the conference, purchase your ticket here.