ABANA 2010 Summer Leadership Retreat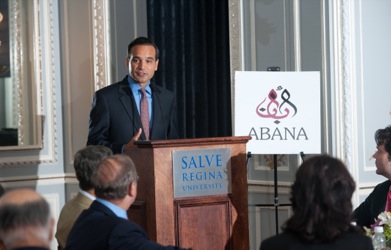 Date August 4, 2010, 12:00 am
Location Salve Regina University
100 Ochre Point Avenue, Newport, RISee Map
Wednesday, August 4, 2010
6:00 p.m
Cocktail Reception
7:00 p.m
Welcome Remarks & Dinner
Sister M. Therese Antone, RSM, Chancellor, Salve Regina University
Opening Remarks
Omar Wohabe, President, ABANA & Partner, Wohabe Law Offices, LLP
Keynote Speaker
Robert F. Kennedy, Jr., President, Waterkeeper Alliance
Thursday, August 5, 2010
8:00 a.m.
Buffet Breakfast
Program Introduction
Katharine "Kitty" Cushing, Strategic Investment Advisor, Amphion Innovations plc
8:45 a.m.
Welcome Remarks
Frank Caprio, Rhode Island General Treasurer
Omar Wohabe, ABANA President & Partner, Wohabe Law Offices, LLP
9:10 a.m.
Keynote Speakers
Dr. Hani Findakly, CEO, Potomac Capital (Presentation available)
Dr. Odeh Aburdene, President, OAI Advisors (Presentation available)
10:30 a.m.
Break
10:45 a.m.
Roundtable Discussion I - Partnership is the Way Forward: Co-Investment & Public-Private Partnerships
Moderator: Mohannad Aama, Managing Director & Senior Portfolio Manager, Beam Capital Management
Salah Brahimi, President & Chief Executive Officer, Grey Matter International Ltd.
Frank R. Prautzsch, Director, Business Development, Renewable Energy, Raytheon
Andrew K. Reilly, Managing Director, Accretive Exit Capital Partners LLC
Keith W. Stokes, Executive Director, Rhode Island Economic Development Corporation
Roundtable Discussion II - The Art of the Possible: Renewable & Alternative Energy
Moderator: Rod Parsley, Partner, Perella Weinberg Partners
Evan Lovell, Founding Partner, Virgin Green Fund
Werner Nikowitz, Founding Member, Carbonfinanz
Stephen E. Smith, Jr., Co-Founder & Member, Em-Link, LLC
12:00 p.m.
Luncheon
12:45 p.m.
Keynote Speaker
Dr. Srinivasan Pillay, CEO, NeuroBusiness Group
1:45 p.m.
Roundtable Discussion III - A Legacy of Partnerships: Family Business
Moderator: Lorraine F. George-Harik, Partner, HPM Partners LLC
Katherine Lorenz, Deputy Director, Institute for Philanthropy
John Messervey, President & Founder, National Family Business Council
Roundtable Discussion IV - A World of Opportunity: Cross-Border Transactions
Moderator: Hussein A. Khalifa, Partner, MVision Private Equity Advisers
Emad H. Khalil, Partner, Gibson, Dunn & Crutcher, Signapore
Mahmoud Salem, Managing Director, Financial Market Sector, BNY Mellon
Karim Shariff, Founding Principal, Majlis Investment
3:00 p.m.
Adjournment
3:30 p.m.
Tour of the Loeb Visitor's Center with
Ambassador John L. Loeb, Jr.
6:30 p.m.
Dinner at the home of Katherine Quinn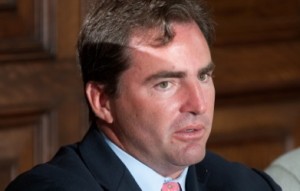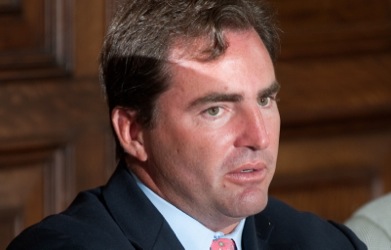 Managing Director
Accretive Exit Capital, LLC