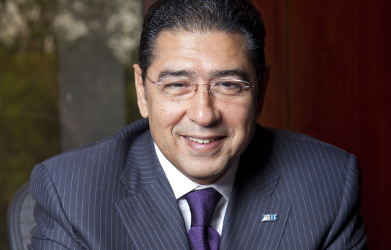 Chairman and Managing Director
CIB
Mr. Hisham Ezz Al-Arab has been leading CIB since 2002 as Chairman and Managing Director. Under his leadership, CIB expanded its leading position, grew its market capitalization from $200m to $4billion, and developed from a wholesale lender into the full-fledged financial institution it is today. His vision transcended financial performance to include the adoption of best practice in corporate governance and risk management and the buildup of a modern banking culture. With that effort CIB stock is now viewed by the international investment community as a proxy stock for Egypt and the benchmark for its banking industry.
In February 2014, Mr. Ezz Al-Arab became a member of the Institute of International Finance Emerging Markets Advisory Council - EMAC (established by the IIF Board of Directors in 2008). In March 2013, he was unanimously elected the Chairman of the Federation of Egyptian Banks. He is the first private sector banker to assume such an accolade. Mr. Ezz Al-Arab has been a Director in MasterCard's Middle East & Africa Regional Advisory Board since June 2007 and is a principal member of the American Chamber of Commerce. For his distinguished work and clear support for education, he was elected a member of the Board of Trustees of the American University in Cairo (AUC) in November 2012. His passion to give back to society culminated in the establishment in 2010 of the CIB Foundation dedicated to uplifting underprivileged children in Egypt. Mr. Ezz Al-Arab is also the Founder and Chairman of the Board of Trustees.
Mr. Ezz Al-Arab began his career in banking in 1977. As a fresh graduate from Cairo University, before he moved in 1983 to pursue a thriving international career with global banks in London and New York. He held the position of Managing Director, JP Morgan, London and Managing Director, Deutsche Bank, London before joining CIB in 1999 as Deputy Managing Director and in 2001 as a Board Member.
Profile as of 8/12/15