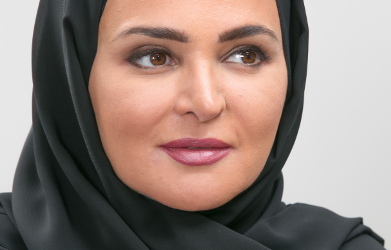 Founder & Chairperson
Amwal
Sheikha Hanadi is the Founder and Chairperson of Amwal, Founder & CEO of AL Waab City Real Estate development project, Vice Chairman of Nasser Bin Khaled Al-Thani & Sons Group, and Founding Chairperson, Q-Auto.
She started her career as an assistant lecturer in Economics at Qatar University. In 1998 Sheikha Hanadi founded Qatar Ladies Investment Company (known as Amwal), the first investment company to receive a license from Qatar Central Bank to conduct investment banking, asset and wealth management in Qatar. In 2005 she founded Al Waab City, a urban community development of over 1.2 million square meters of mixed use areas.
A fervent supporter of entrepreneurship and its positive effect on the community, Sheikha Hanadi serves on the Board of Trustees of the College for Business and Economics at Qatar University. She is Chairperson of INJAZ Qatar and board member of INJAZ Al Arab, the regional arm of Junior Achievement Worldwide. She is a member of the ME Board of Planet Finance, a member of the advisory board of The Legatum Center for Development and Entrepreneurship at the Massachusetts Institute of Technology and a member of the Pearl Initiative Board of Governors.
Sheikha Hanadi has received numerous awards and recognition over the span of her career. She has been on the Arabian Business list of most Influential Arabs for several consecutive years. She has also been named a Young Global Leader by the World Economic Forum.
Profile as of 8/25/15