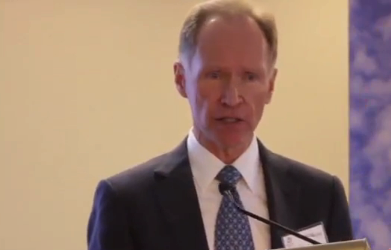 Chairman & Managing Partner
Bourland Associates
Brad Bourland is the founder and Chairman of Bourland Associates, a Washington, DC based firm focusing on business and financial advisory for Saudi Arabia and the broader Middle East, drawing on his over 20 years experience in business and finance in Saudi Arabia.
From June 2007 for five years, Brad was at Jadwa Investment in Riyadh as the Chief Economist and Managing Director of Proprietary Investments. Brad was responsible for sourcing and leading many of the company's landmark corporate acquisitions in Saudi Arabia. For nine years prior to joining Jadwa, Brad was the Chief Economist at Samba Financial Group, formerly the Citigroup affiliate Saudi American Bank, in Riyadh. Before joining Samba, Brad spent an 18-year career as diplomat and economist with the U.S. Department of State. During the last three years of his diplomatic career, he was in Riyadh as the American Embassy's First Secretary responsible for financial affairs, where he analyzed the Saudi economy for the U.S. Government and conducted financial aspects of US-Saudi relations, such as serving on the US negotiating team for Saudi accession to the World Trade Organization.
Mr. Bourland publishes regularly on issues related to the Saudi Arab and global economies and the world oil market. He earned a B.A. and M.A. from the University of Utah and is a Chartered Financial Analyst (CFA).
Previous Speaker Events:
Doing Business in the Gulf: An Economic and Regulatory Overview, October 2012
Profile as of 07/19/2017