Video Coverage: 2019 ABANA Achievement Award Dinner – Farouk A. Bastaki Speech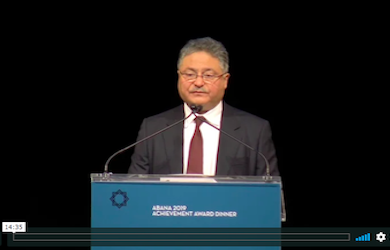 Mr. Farouk A. Bastaki, Managing Director & Group Chief Executive Officer of The Kuwait Investment Authority (KIA) is the 2019 recipient of the prestigious ABANA Achievement Award. David Rubenstein, Co-Founder & Co-Executive Chairman of The Carlyle Group, delivered the introduction at the event, which was held on October 21st at Gotham Hall in New York City.
Watch Farouk A. Bastaki's full speech here.
Read about the 2019 ABANA Award Dinner in the: