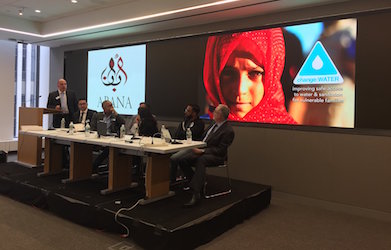 ABANA, Harvard Business School Alumni Angels, Harvard Arab Alumni Association and HOF Capital held a very successful Tech Summit on April 25, 2017 focusing on startups with ties to the MENA Region and featuring conversations with VCs, LPs and FinTech experts.
We would like to thank everyone who was a part of making the first annual US-MENA Tech Summit a great success!
The Summit aimed to provide our attendees with informed perspectives on global entrepreneurship with a special focus on the Middle East and North Africa. We also strived to attain expert insights into critical developments affecting venture capital and FinTech investment trends.
We would love to hear your thoughts and feedback, so please fill the survey below.
We were delighted to host a number of leading venture capitalists, fintech experts, and institutional investors including Ahmed El Alfi, Founder & Chair, Sawari Ventures; Omar Darwazah, General Partner, Arab Angel Fund; Hilary Gosher, Managing Director, Insight Venture Partners; Sharif El Badawi, Partner, 500 Startups, Zineb Guessous, Managing Partner, Almena Partners, Abbas ("Eddy") F. Zuaiter, Managing Member, Zuaiter Capital Holdings; Onsi Sawiris, Founder & Managing Partner, HOF Capital; Namek Zu'bi, Founder & Managing Partner, Silicon Badia; Marc Atiyeh, Chief Strategy Officer, ClarityMoney; Edrizio De La Cruz, Co-Founder & CEO, Regalii; Hany Rashwan, Founder, Payout; Mohamed AlTantawy, Founder, Agolo, Kevin Petrasic, Partner, White & Case.
We heard pitches from Monami Tech, Healthimation, FieldForce, Wally, Change:Water Labs, Surface Hotels and Area 11.
We tentatively scheduled several follow-up events over the next year on such themes as: FinTech, women entrepreneurs, disruption of asset management, and corporate VC.  We are also looking to write a white paper on the contribution of the MENA community to the US tech community, to be published around the 2nd annual US-MENA Tech Summit next year.
If you'd like to get involved in any of the initiatives above as a speaker, sponsor, or in some other capacity, please contact Zainab Al Dabbagh, ZAlDabbagh@abana.co, and Fady Yacoub, fyacoub@hof.capital.
On behalf of ABANA, Harvard Business School Alumni Angels of New York, Harvard Arab Alumni Association, HOF Capital, NUMAA New York, RiseEgypt and TechWadi,
thank you
شكرا
آپ کا شکریہ
متشکرم
teşekkür ederim!
We hope that you plan to join us for the 2018 US-MENA Summit! To help us prepare an even better program next year, please take a 3-minute survey with your feedback and suggestions.