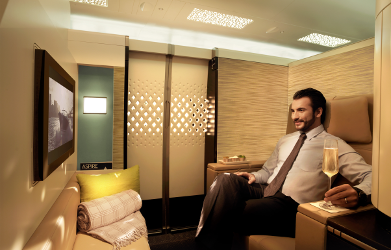 To kick off ABANA's new Member Referral Program, all current ABANA members who refer a new member will be entered into a drawing for one of three round-trip business class tickets on Etihad Airways!
The drawing will take place at ABANA's January 2017 annual meeting and you do not need to be present to win. Members will be entered in the drawing once for each referral. Referring members may not win more than one ticket in the January 18th drawing.
About ABANA's Member Referral Program
ABANA's greatest asset is our network of members; and our greatest member benefits lie in the knowledge and opportunities our members provide to each other.
We encourage all of our members to help make their association stronger by bringing their colleagues, companies and friends into the network. And to reward you for referring new members, ABANA now offers annual rewards in gifts or membership credits.
How it works:
ABANA's Member Referral program is based on a point system.
You may earn either a reward from one of our partners valued at $100 for every six points you earn or a free/discounted membership (varies with level of membership) for every 12 points you earn.
And, between November 23rd and ABANA's Annual Meeting (tentatively January 18, 2017), each referral — at any level of membership — will enter you in a drawing for one of three Etihad Airways round-trip business-class tickets!
How to earn points:
To earn points you must a member in good standing, be listed as one of a new applicant's references on their original application and they must become a member in good standing.
Institutional Member: 10 points
Individual, Sustaining or Virtual Member: 2 points
Student Member: 1 point
See the official page of ABANA's Member Referral Program for more details, terms and conditions.