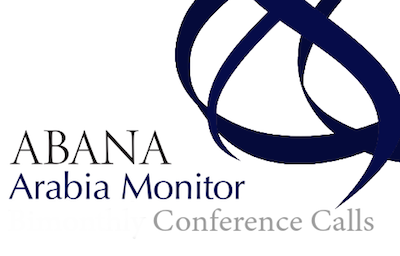 Dear ABANA Members,
We have restructured our valued partnership for the monthly ABANA-Arabia Monitor MENA Markets Call. Our new agreement will grant ABANA members exclusive access to three Arabia Monitor calls.
If a member/registrant wishes to join the call for the fourth time, they will have to reach out to Arabia Monitor to learn more about their services.
We are pleased to also announce that through our close partnership, Arabia Monitor will soon offer ABANA members access to select Arabia Monitor reports! Stay tuned for more details. In the meantime you can check out 2019 sample reports below.
We thank you for your continued participation and support for ABANA and Arabia Monitor, and we look forward to having you on the February MENA Markets call.
You can register for the February call here! 
Sincerely,
The ABANA & Arabia Monitor Teams
---
Arabia Monitor Reports