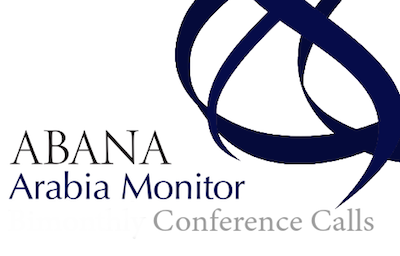 Dear ABANA Members,
Many of you have been regular participants in ABANA's MENA Markets calls with our partner Arabia Monitor and you've told us how much you value the insights you gain on the region through them.
We're writing to update you on a few big changes to these calls, which will allow us to continue this popular series on a monthly basis.
Beginning in August, all Sustaining and Institutional ABANA members — including colleagues at their institutions — will have complimentary access to the calls.
ABANA Individual and Virtual Members will have the following access options:
• Annual Package (access all Arabia Monitor MENA Markets Calls) for $150.
• Pay a fee of $30 to access each monthly call.
We're delighted to be able to continue to provide timely business intelligence and analysis from Arabia Monitor to our members and encourage those of you who may not have joined them in the past to check out the next MENA Markets call, which will take place September 2, 2020.
Sincerely,
The ABANA Team
---
Arabia Monitor Reports