Mona Aboelnaga Kanaan Elected ABANA President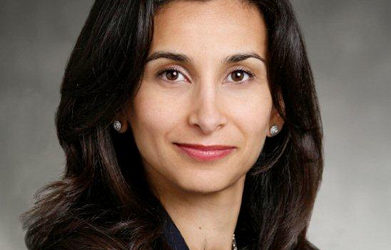 Mona Aboelnaga Kanaan, Managing Partner at K6 Investments LLC, has been elected President of the Arab Bankers Association of North America (ABANA) board of directors. She succeeds Amer Bisat, Managing Director at BlackRock, who concluded two terms as ABANA president.
Mona Aboelnaga Kanaan has been a successful serial entrepreneur and investor for over 20 years. She serves as Managing Partner of K6 Investments, a private investment firm she founded to invest in a wide array of industries including financial services, technology, luxury and entertainment. Investments include Bespoke Global, uKnow, YOLA COLÓN, SheerStyle, and theatrical productions such as Book of Mormon, American Idiot and Race.  K6 also advises institutional and strategic investors as they expand globally into these industries. Previously, Mona was President and CEO of Proctor Investment Managers, a firm she co-founded in 2002 to take advantage of private equity investment opportunities in the traditional and alternative asset management industry. After taking Proctor from start up to success, Ms. Aboelnaga Kanaan sold the firm to National Bank of Canada in 2006 and continued as Proctor's CEO until 2013.
In addition to Aboelnaga Kanaan, the following directors were elected or re-elected to ABANA's twenty-person board by the Association membership:
Ahmad Atwan, Senior Portfolio Manager, Global Infrastructure Fund, Morgan Stanley
Florence Eid, CEO & Chief Economist, Arabia Monitor
Zineb Guessous, Managing Director, StoneWater Capital LLC
George Jalinos, President, The Galen Group, Inc.
Mahmoud Mamdani, Vice Chairman & Managing Director, Morgan Stanley
Mona Mourshed, Senior Partner, McKinsey & Company
Amal Moussa, Vice President, Equity Exotic Derivatives Trader, JPMorgan Chase