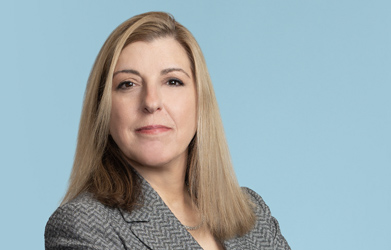 ABANA is pleased to share the launch of the ABANA Spotlight, a new feature series that aims to showcase an exceptional member of our community. The ABANA Spotlight will highlight the impressive range of expertise and diversity within our ABANA community. To kick-off this new initiative, we are honored to have ABANA Board Member Mona Dajani.
ABANA Board Member Mona Dajani is pushing the clean energy industry forward representing some of the most powerful players in the space. She is regularly recognized as one of the foremost authorities on renewable energy. Ms. Dajani currently serves as the Global Co-Head Energy & Infrastructure Projects Team at Pillsbury Winthrop Shaw Pittman LLP. She is described as 'a brilliant legal mind', a 'very effective and focused advocate', and 'a fantastically innovative lawyer' who is a combination of intellectual depth and pragmatism. The directories highlight her 'deep knowledge of clean energy international law', her ability to galvanize 'heads of state, foreign ministers and business in a way that is very effective for clients', and her 'passionate commitment to the law and compassion for the people it serves'.
For the ABANA June Spotlight we sat down with Mona to hear more about her extensive career leading in the clean energy space, the future of clean energy, and her passions.
---
ABANA: Share with us about your current role.
Mona Dajani: My current role is the Global Co-Chair of the Energy and Infrastructure Team at Pillsbury Winthrop Shaw Pittman LLC. I supervise a team of lawyers that are all over the world in all aspects of clean energy, and that includes mergers and acquisitions of companies that want to do wind and solar or hydrogen or anything that doesn't use fossil fuels. So, wind, solar, hydrogen, all these are areas we represent companies that want to get into this industry. We also represent companies that are already in the industry.
I do complex mergers and acquisitions, financing, project development, Islamic finance, among many other things—we are a full-service law firm that covers work for a wide variety of clients in the energy and infrastructure space – who are sovereign wealth funds, Oil and gas majors, private equity companies, clean technology companies, private equity funds, investment banks, government sovereign wealth funds, or multilateral agencies all around the world, sponsors.
ABANA: You have had a highly accomplished career. What would you say has been the highlight of your career if someone were to ask you that?
Mona Dajani: My parents immigrated to this country to give themselves and their children a better life. Their message to me as a young girl was that I can do anything. I am grateful that my career has had many highlights and look forward to more. In addition to my very common over-education- as a Palestinian, I am ranked in the global legal directories Legal 500 and others as a leading attorney in finance, M & A, and clean energy.
I think that the fact that I have been given the opportunity to become overeducated advising many public companies, governments while leading being the global head of an AM and a top 100 law firm and the energy and infrastructure team is a big deal. I think I'm the only woman in the world doing that. I think it's a big deal that I have a team of lawyers all around the world that I supervise and work with
ABANA: I think many people will find that inspirational.
Mona Dajani: I mean, if you look at all of this all together with the backdrop of balancing a family while being a mother to two children it should be inspiring, but also just that we can do it. I guess the way you can phrase it is just that I'm a woman of many firsts. The first woman to lead this practice for a global law firm, being dual qualified, both in the US and in the UK, and advising many governments while putting deals together to promote clean energy.
ABANA: You have spoken about clean energy, which you are a leader for in the field. At ABANA, we have taken an interest in this space. As an expert, where do you see clean energy going in the next five years?
Mona Dajani: I think that we are in a very unique situation in the Middle East since the region is dominated by oil revenues. I'm seeing that the whole world now realizes we can't be reliant solely on oil. Although the Middle East has colossal oil reserves and giant oil fields yet, I think that there is pressure to move away from an over-reliance on oil, which is now propelling a global move toward renewable energy.
Many of the oil majors in Europe have already made these pledges where they are exploring different energy models and they're trying to move away from oil. So, oil demand is still going to be on a downward slope, and there's going to be a rapid transition away from oil. And now we have more than 120 nations that have set a target of net-zero carbon emissions, some by 2050 and some by 2030, because of the dropping costs of renewable energy.
There is also a cultural and political shift that's going on in the Middle East. The region is embracing it, as leaders are waking up to the fact that carbon emissions are damaging to the environment, with the fact that the Middle East holds more than 50% of the world's oil reserves It has business implications and global demand for renewables is forecasted to grow exponentially.
ABANA: How do you feel like these larger shifts fit in the work ABANA members working in the finance and business services communities?
Mona Dajani: Well, we really need to help the MENA region see that major changes are going on in the energy mix. In the MENA, we are trailing Europe, and we are trailing Asia in this space. It shouldn't be limited to just a handful of non-oil states like Jordan, Morocco, Tunisia, and Egypt that are focusing on this. It is not too late to start; we can help spearhead and attract a lot of investments from several institutions whether they're from Europe or the United States, and even Asia. We need to be leaders.
ABANA: Mona, what drives you in your career?
Mona Dajani: I have been passionate about clean energy for over 20 years. I really feel like I'm making a difference in the world. It gives me great satisfaction to see the deals that I've put together and the work that I've done actually make a difference, not just for humankind, but also on a more personal level. I know that when my time has come, I know that I have done what I can, based on my skills to make the world a better place for humankind, for my family, for my kids, and for the future.
ABANA: When you are not working, what is your favorite pastime?
Mona Dajani: I like to spend time with my family and I like to do family events, whether that's kayaking or spending time hiking outdoors. I also like to cook and I'm very passionate about collecting wines while hosting dinner parties.
---

Mona Dajani
Global Co-Head Energy & Infrastructure Projects Team
Pillsbury Winthrop Shaw Pittman LLP
Ms. Dajani, dual qualified as a lawyer in the U.S. and England and a licensed professional engineer, serves as a lead lawyer in complex acquisitions, dispositions, financing, and project development transactions involving energy and infrastructure facilities in the United States and around the world. She has for over 20 years been counsel to many of the world's most prominent development and investment companies in connection with hundreds of successful infrastructure, real estate, and energy transactions, and projects in conventional and Islamic equity and debt transactions. She is highly regarded for her vast experience in projects involving solar, wind, hydrogen, e-mobility, hydroelectric, geothermal, biomass, waste energy, and other renewable energy facilities, as well as large-scale gas and LNG-fired cogeneration plants, coal gasification, transmission lines, and oil and gas pipelines.
Ms. Dajani represents sovereign wealth funds, private equity funds, export credit agencies, investment funds, governments, banks, developers, institutional investors, lenders, pension fund advisers, contractors and asset management companies with respect to a wide range of shariah-compliant finance and investment transactions across the core practice areas of banking, project finance, capital markets, restructuring, M&A, investment funds and dispute resolution. She has expertise in structuring, documenting, and negotiating complex transactions and developing innovative shariah-compliant techniques, including finance, regulation, project and asset finance, hedging and swap transactions, funds, and other structures, including sukuk issues.
Ms. Dajani has repeatedly been recognized as a leading lawyer by IFLR1000, The Best Lawyers in America (2013-2020), and is the winner of the Law360 MVP 2020 award in the Project Finance category. She was elected to the board of directors for the American Council on Renewable Energy in 2015 and appointed as a Fellow to the Construction Lawyers Society (2017-present), an accolade given to only 42 lawyers.
Ms. Dajani is a regular contributor and commentator for CNN radio, POLITICO, Bloomberg New Energy Finance, Fox News, The New York Times, The Washington Post, National Public Radio (NPR), and USA Today, among others.