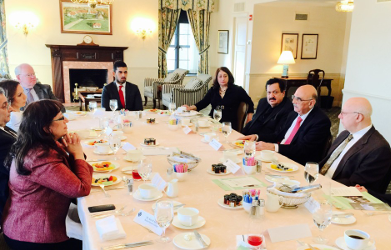 Through the "Professional Development Initiative (PDI)," Kuwaiti graduates of universities in the United States are selected annually and on a competitive basis to participate in year-long internships with U.S. companies.
Now in its second year, the PDI is a signature program of the Embassy of the State of Kuwait in the United States, the Ministry of Higher Education in Kuwait, the Kuwait Foundation for the Advancement of Sciences (KFAS) and the National U.S.-Arab Chamber of Commerce (NUSACC). In addition to providing leadership training before and throughout the year, NUSACC handles all visa, work authorization, SSN, housing stipend, and healthcare coverage for the Fellows.
Past hosts include AIGA, Koll Company, Langan International, MetLife, Onward Engineering, Philadelphia International Medicine, and others.
ABANA encourages interested members to take advantage of the program and host a PDI Fellow for the June 2015 – June 2016 term.
You can learn more about the program, current participants, and host companies on the PDI website: www.pdi-nusacc.org.
To host a PDI Fellow during the 2015-16 term, please contact the PDI Director, Ms. Cynthia Douglass at (801) 867-3020 or by email at cdouglass @ nusacc.org, or PDI Manager Dr. Meghan B. Morris, mmorris @ nusacc.org.
Photo information: PDI Fellow Mohammed AlBader, seated at the head of the table, works as a Practice Manager for MetLife, Chicago. He participated in a business luncheon in Chicago for the President of the American University, Madaba (Jordan), Dr. George Hazboun, (right side, speaking). Also pictured: Talat Othman (far right), President of the Arab-American Business Professional Association, and H.E. Ihsan Sweiss (right side, left of Dr. Hazboun), Honorary Counsel for Jordan.