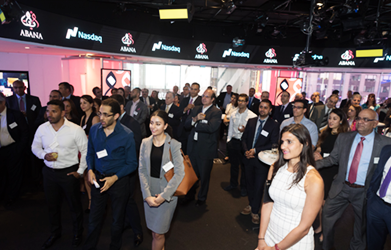 The Arab Bankers Association of North America announced last night that it has rebranded under the name "ABANA" in order to better reflect the organization's global reach and the breadth of its members' professional activities. The association's new website domain is www.abana.co.
ABANA Chairperson Mona Aboelnaga Kanaan announced the organization's new direction at a celebratory reception held at NASDAQ on Times Square in New York City. Ms. Aboelnaga Kanaan, CEO of K6 Investments, stated, "This is an exciting time for our 33-year-old organization. ABANA has a long history of providing a forum for innovative thoughts and ideas and this rebranding is done in the spirit of maintaining that legacy and continuing to expand our network."
A New York-based nonprofit association, ABANA was established in 1983 by a group of dedicated professionals–including Hutham Olayan, Issa Baconi, Monir Barakat, Fakhruddin Khalil and others—who identified a need for an organization that would foster professional exchange and promote the business interests of the Arab and Arab-American financial community in the United States.
Thirty-three years later, ABANA's membership has expanded well beyond a traditional definition of "Arab banker," bringing together Arab and non-Arab professionals with activities in North America and the MENA region. In addition to global financial institutions and banks, its membership includes private equity and institutional investors, family offices and law firms, real estate and technology professionals and more. Almost 15% of its members are based outside North America.
In tandem with its revamped identity, the New York City-based professional association has fine-tuned its mission statement and added new membership tiers and benefits.
ABANA's upated mission statement is: To connect, support and inform finance professionals and institutions with interest in the Middle East and North Africa.
Three new options are now available to new and renewing ABANA members: Sustaining Institutions are companies who are regular supporters of ABANA and would like to bundle their annual membership and sponsorship payments. Sustaining Individuals are professionals who would like to sign up for institution-level benefits (currently by invitation). Virtual Members are professionals outside of the US and the Tristate area who want to be a part of the ABANA network.
The rebranding was announced to a crowd of over 200 members at ABANA's Summer Reception held at NASDAQ. Joining the celebration were ABANA supporters Mosafer Travel and Etihad Airways, which announced new travel benefits for members of ABANA.