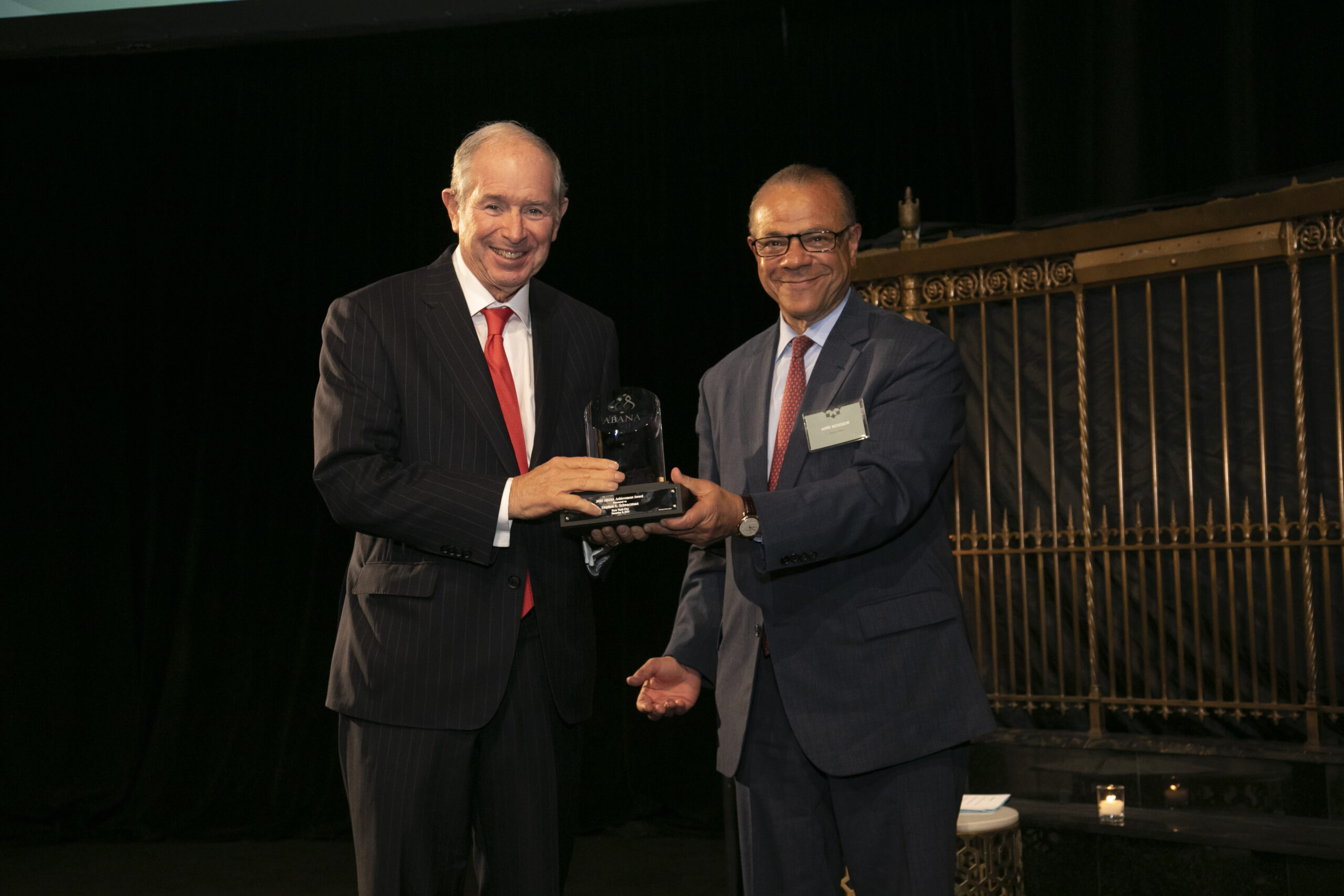 New York, 10 December 2021 — ABANA, the preeminent US organization for finance professionals and institutions with an interest in the Middle East and North Africa, honored Stephen Schwarzman, Chairman, CEO & Co-Founder of Blackstone, at its annual Achievement Award Dinner on December 8th.
In presenting the award, ABANA Chairman Amr Nosseir applauded Schwarzman for setting in motion a new competitive dynamic in the alternative investment universe. Taking Blackstone, the company that he co-founded, public in 2007 was "a groundbreaking move for alternative investment managers," said Nosseir. "[He] created a new paradigm – and blazed a trail – for the rest of the sector to try to follow." Nosseir also commended Schwarzman's work as a public servant and philanthropist, highlighting his role in support of global education and cultural institutions.
For over 35 years, the ABANA Achievement Award has been given to an outstanding individual who has made significant contributions to the financial services industry and been instrumental in promoting valuable relationships between the business communities of the US and MENA region. Previous honorees include Farouk Bastaki (Kuwait Investment Authority), David Rubenstein (The Carlyle Group), Ahmed Al Sayegh (Abu Dhabi Global Market), Laurence Fink (BlackRock), Dr. Mohamed El-Erian (Queen's College, Cambridge), and Hutham Olayan (The Olayan Group).
In attendance last night were previous honorees Laurence Fink and David Rubenstein, as well as notable representatives from supporting organizations including Morgan Stanley, Blackstone, BlackRock, Goldman Sachs, The Olayan Group and others. The event brought together 300 dignitaries and leaders from the financial services industry and business services industries, including from law and consulting firms.
In a Fireside chat with Maria Bartiromo, Anchor and Global Markets Editor on Fox Business and Fox News, Schwarzman gave his macro-outlook for the global economy and financial services sector. He credited Blackstone's growth to its core values: "great people, a strong culture, horizontal management, excellence, pride, and no glass ceilings." Upon accepting his award, he said "part of what makes America great is the ability to have these kinds of opportunities," and told the audience "I would encourage you to take it in," but "don't just be for yourself. You have an obligation to make the world better and help people when you can."
In the image: (left to right)
Stephen Schwarzman, Chairman, CEO & Co-Founder of Blackstone

Amr Nosseir, Chairman of ABANA
To download the high resolution version of this image please click here.
For more information on ABANA or the 2021 ABANA Achievement Award Dinner, contact: Albert Doumar – adoumar@abana.co or +1 212 599 3030 ext. 3