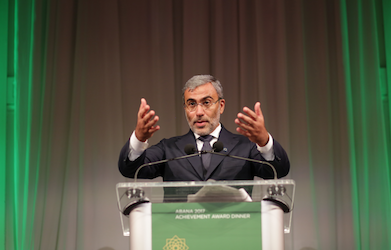 Chairman of Abu Dhabi Global Market Celebrated as "True Global Leader"
New York, October 16, 2017 – At its annual Achievement Award Dinner in New York City, ABANA presented its 2017 Achievement Award to His Excellency Ahmed Ali Al Sayegh, Chairman of Abu Dhabi Global Market.
ABANA Chairperson Mona Aboelnaga Kanaan praised Ahmed Al Sayegh as "a true global leader who for over thirty years has played a transformational role in many of the United Arab Emirates' most strategically important initiatives. Now, as Chairman of Abu Dhabi Global Market, he is building one of the world's leading financial centers in the capital of the UAE."
In accepting the award, Al Sayegh thanked ABANA for "your tireless work in championing the banking and investment links between North America and the MENA region. Never has there been a more important time for the work that you do and the dialogue that you enable.
"We have people in this room tonight who are the pioneers and engines of global banking, diplomacy and investment. People who are enabling global capital flows, cross-border trade, and economic progress in many parts of the world. The work that you do enables young nations to rise. You make global progress possible for us all."
Al Sayegh was introduced by the Ambassador of the United Arab Emirates to the United States, Yousef Al Otaiba. Ambassador Al Otaiba said that Ahmed "has launched a number of groundbreaking projects that have helped Abu Dhabi diversify its economy and has raised the UAE's profile as a global hub for business. He is a calming influence and a wise voice – a key player in the Abu Dhabi business community who knows the power of collaboration to generate shared success and prosperity."
Over 360 ABANA members and guests attended the dinner, including government officials and VIPs, past award recipients, and top-level executives representing leading U.S. and MENA banks, financial institutions, and companies in related fields.
The annual ABANA Award Dinner has long been the premier U.S. event for the Arab and international finance industry. Held yearly in New York City following the World Bank and IMF annual meetings, the event brings together hundreds of guests in celebration of an exemplary international business leader.
Among the 2017 ABANA Award Dinner sponsors were BlackRock, Abu Dhabi Global Market, Neuberger Berman, the Olayan Group, National Bank of Kuwait, Wafra Investment Advisory Group, ADNOC-Abu Dhabi National Oil Company, Shearman & Sterling, SAS Asset Recovery, JP Morgan, the Carlyle Group, Etihad Airways, the American University of Beirut, King & Spalding, BNY Mellon, GoldenTree Asset Management, HSBC, Katten Muchin Rosenman, PwC, Kuwait Project Co. (Holding), the Blackstone Group, Related Companies, and Morgan Stanley.
Past recipients of ABANA's Achievement Award include Laurence D. Fink, Carlos Ghosn, Hutham S. Olayan, Mohammed Ali Alabbar, Bader Al Sa'ad, Muhammed Al-Jasser, Mohammed El-Erian, Faisal Al-Ayyar, Lubna Olayan, Richard Debs, Prince Alwaleed Bin Talal and Abdul Majeed Shoman.
About ABANA
ABANA is the preeminent U.S. organization for financial professionals and institutions with interest in the Middle East and North Africa (MENA). For nearly 35 years, ABANA has provided its dynamic and diverse global network of members with meaningful new professional connections, access to timely business intelligence and direct contact with global business leaders. It is recognized as an essential bridge between the financial sectors in North America and the MENA region. More information is at www.abana.co.
About ADGM
Abu Dhabi Global Market is a key pillar of Abu Dhabi's Economic Vision, acting as a catalyst for the growth of the dynamic financial services sector in the UAE. ADGM's three independent authorities – the Registration Authority, the Financial Services Regulatory Authority (FSRA) and ADGM Courts – ensure that its business-friendly environment operates in line with international best practices that are recognized by major financial centers across the world. In collaboration with other International Financial Centers, global institutions and regulators, Abu Dhabi Global Market develops and supports member institutions with the regulatory framework, legal jurisdiction and attractive business environment they need for sustainable business growth. More information is at www.adgm.com.