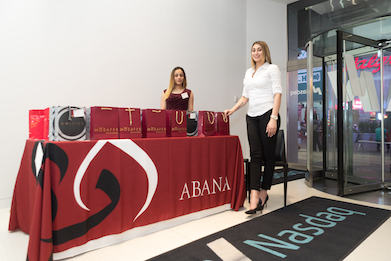 ABANA congratulates Mosafer, Qatar-based travel lifestyle department stores, on the opening of their flagship location in New York City. Mosafer, a sponsor of ABANA's Summer Reception at NASDAQ, held its grand opening on 57th Street between 5th and 6th avenues last month and doors are now open at the two-story space, which includes a cafe.
ABANA members had an opportunity at their Summer Reception to hear from Mosafer Operations Manager Mohamed Zaza, who described the company's dedication to providing the best selection of luggage on the market and their process of for in-house design and development of new products.
About Mosafer
Mosafer is a one-stop -shop where you will find all the modern lifestyle travel solutions and accessories. The luxury retailer believes that travel is more than just a way of going places, it is an art: how you travel, the way you pack, beautiful bags and luggage, and the accessories that make you comfortable all contribute to the traveler's lifestyle and the destinations they enjoy.
Mosafer was established by Ashraf Abu Issa, Chairman of Abuissa Holding, in 2010 when the first store opened in Doha, Qatar. Mosafer means 'traveler' in Arabic, Turkish, Farsi, Hebrew and several Indian and Pakistani languages. Today, Mosafer has 19 travel stores that supply modern lifestyle travel solutions & accessories in 4 different GCC countries in addition to New York and Turkey.