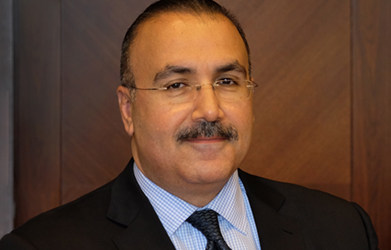 ABANA is pleased to announce the appointment of Omar H. Al-Farisi to its 2016 Board of Directors.
Mona Aboelnaga Kanaan, ABANA Chairperson, said, "Omar has been a valued member of ABANA for many years and we are delighted to have such a leader in both the U.S. and GCC join our Board of Directors." She continued, "The organization will benefit tremendously from his deep understanding of the needs of and challenges for financial institutions working between the U.S. and the Middle East."
Mr. Al-Farisi is the Managing Member of Diyala Advisors, LLC, a New York based boutique firm providing strategic advisory services to institutional clients on international transactions including financings, direct and alternative asset investments, joint ventures and privatizations. Previously, he was an investment banker with Credit Suisse First Boston in New York where he focused on energy sector capital markets issuances, financings and mergers and acquisitions. Prior to that, he practiced as an attorney at the law firm of White & Case in New York where he specialized in representing host governments, developers and lenders in international financings of large-scale infrastructure and energy projects. Mr. Al-Farisi is a member of the board of directors of The Savola Group Company (a Saudi-listed diversified food and retail conglomerate) and of Gulf International Bank, B.S.C. (a leading bank in the Middle East with a principal focus on Saudi Arabia and the GCC), where he also chairs the risk committee and is a member of the executive and audit committees.