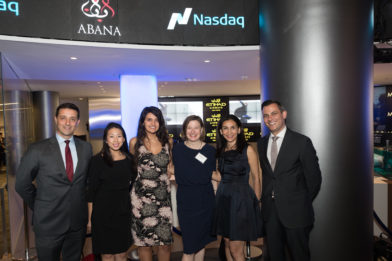 Etihad offers ABANA Members discounted rates on flights to select GCC destinations.
ABANA, the premiere US organization for finance professionals and institutions with interest in the Middle East and North Africa, has announced a new, annual partnership with Etihad Airways, the national airline of the United Arab Emirates.
Through the partnership, Etihad now provides ABANA members with discounted rates on Economy, Business and First-Class Etihad flights from the US to select destinations in the GCC. ABANA is also proud to recognize Etihad as a supporter of its annual programming, notably its June 1st Re-Launch Event, which took place at NASDAQ in New York City's Times Square.
"Etihad Airways is an ideal partner for ABANA," according to ABANA President Susan Peters. "Our members are frequent flyers—three-quarters of them travel between the US and the MENA region every year, with 20% of them are making that trip at least once a quarter. We're excited to be able to provide them with better access to one of the world's fastest growing airlines."
Etihad Aviation Group (EAG) is a diversified global aviation and travel group comprising four business divisions – Etihad Airways, the national airline of the United Arab Emirates, Etihad Engineering, Hala Group and Airline Equity Partners. The group has minority investments in seven airlines: airberlin, Air Serbia, Air Seychelles, Alitalia, Jet Airways, Virgin Australia, and Swiss-based Darwin Airline, trading as Etihad Regional.
From its Abu Dhabi base, Etihad Airways flies to, or has announced plans to serve, 117 passenger and cargo destinations in the Middle East, Africa, Europe, Asia, Australia and the Americas. The airline has a fleet of 122 Airbus and Boeing aircraft, with 204 aircraft on firm order, including 71 Boeing 787s, 25 Boeing 777Xs, 62 Airbus A350s and 10 Airbus A380s.
A nonprofit association, ABANA is best known for its robust calendar of events, meetings and discussions that provide its members with new professional connections, access to timely business intelligence and direct contact to other global business leaders. ABANA programs highlight many of today's most compelling perspectives on the financial markets, investment opportunities and risk. The organization provides our members from the MENA region with a focused platform from which to connect to the right audience when in the United States and we have a range of programs aimed at fostering the next generation of industry leaders with interests in the Middle East and North Africa.
For more information please e-mail info@abana.co