ABANA Announces New Partnership with Arabia Monitor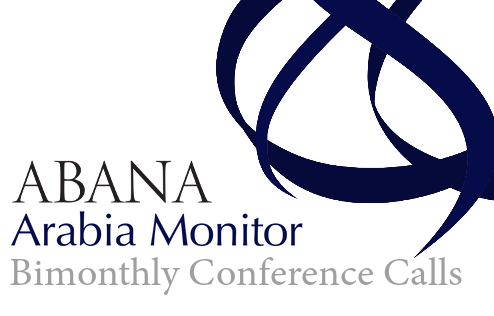 ABANA, the premiere organization for finance professionals and institutions with interests in the Middle East and North Africa, launches a series of bimonthly conference calls on April 6, 2016, in collaboration with Arabia Monitor, an independent economic research and strategy firm specializing in the MENA markets.
The calls will be led by Arabia Monitor's CEO and Chief Economist Dr. Florence Eid-Oakden, who is a respected authority and highly sought-after speaker on the economy and geopolitics of the MENA region. Dr. Eid-Oakden will be joined by a team of analysts to provide insights into emerging issues in and affecting the region. Calls will be open to ABANA's 750 members around the world.
The inaugural call on April 6th will address:
The impact of lower oil prices on growth and oil-exports in the GCC
Geopolitical risk between Saudi Arabia and Iran
Egypt currency devaluation
Economic Growth in Morocco
Sino-GCC bilateral trade relations
China's energy consumption from the GCC