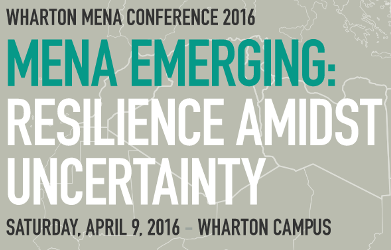 When
April 9, 2016
All day
Where
The Wharton School - Huntsman Hall
3800 Walnut Sctreet
Philadelphia PA
On behalf of the Wharton MENA Conference Organization Committee, ABANA is pleased to extend an invitation to the 5th Wharton Middle East and North Africa Conference, scheduled on April 9, 2016.
Through this year's theme, "MENA Emerging: Resilience Amidst Uncertainty," the Wharton MENA Conference will provide a platform for sharing the stories of MENA leaders, investors and entrepreneurs who are asserting the region's presence in the global economy.
This year's agenda includes panels on Energy, Private Equity, Public Equity, Healthcare, Logistics, Youth & Employment, Entrepreneurship, and Real Estate.
For more information, click here.