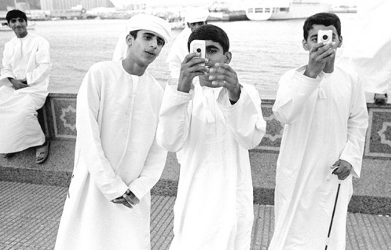 When
April 6, 2015
6:00pm - 8:00pm
Where
Arthur A. Houghton Jr. Gallery
7 East 7th Street, 2nd Floor
New York NY
ABANA members and their guests are cordially invited to a reception and private viewing of Three Views of Oman: The Photography of Wilfred Thesiger, Charles Butt and Edward Grazda 1945-2006.
The exhibition chronicles the rapid social and physical changes in Oman, as well as the changing nature of photography itself over 60 years. These photographs have traveled to Oxford and London, England; Grenada, Spain and other destinations; this will be the only presentation in New York City.
The exhibition, curated by Raina Sacks Blankenhorn and produced by The Ministry of Awqaf and Religious Affairs of the Sultanate of Oman and IAV, is on view at The Irwin S. Chanin School of Architecture of The Cooper Union through April 25th.
Honored guests include:
H.E. Ambassador Lyutha Al-Mughairy, Permanent Representative of the Sultanate of Oman to the United Nations, New York.
Elizabeth O'Donnell, Acting Dean, The Irwin S. Chanin School of Architecture
Raina Sacks Blankenhorn, Curator, Three Views of Oman, Executive Vice President, IAV
Aisha Mazin Stoby, Omani Art Historian / Curator
To register, please e-mail rsvp @ arabbankers.org
Registration
Online registrations are now closed for this event. Contact ABANA at 1 212 599 3030 or rsvp@abana.co for last-minute registrations or questions.