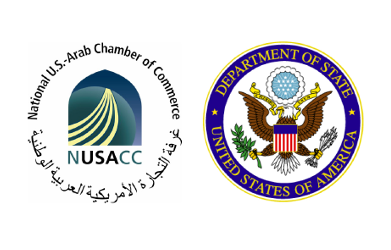 When
March 23, 2015
4:00pm - 6:00pm
Where
U.S. Department of State
2201 C Street, NW
Washington DC
On behalf of the National U.S.-Arab Chamber of Commerce (NUSACC), ABANA is pleased to extend the following invitation to the Third Annual U.S. Ambassadors Economic and Commercial Forum.
NUSACC, in partnership with the U.S. Department of State, will host U.S. Ambassadors currently serving in the Middle East and North Africa (MENA) on March 23 at the U.S. Department of State.  The third annual Ambassadors Forum will provide insights into opportunities and challenges for U.S. companies looking to do business in the region.  CONFIRMED U.S. Chiefs of Mission who will be attending the Forum include: Hon. Joan Polaschik, Algeria; Hon. William Roebuck, Bahrain; Hon. Stuart Jones, Iraq; Hon. Michael Ratney, Jerusalem; Hon. Alice Wells, Jordan; Hon. Douglas Silliman, Kuwait; Hon. David Hale, Lebanon; Hon. Deborah Jones, Libya; Hon. Larry André, Mauritania; Hon. Dwight Bush, Morocco; Hon. Dana Shell Smith, Qatar; Hon. Joseph Westphal, Saudi Arabia; Hon. Jacob Walles, Tunisia; and Hon. Barbara Leaf, United Arab Emirates.
The two-hour event will be divided into two panels, beginning at 4:00 pm.  The first panel will focus on "Beyond the Arab Spring: Opportunities for Growth in Economies in Transition," while the second panel will concentrate on "Energy Diversification in the MENA Region: Exploring New Frontiers."
For more information about the U.S. Ambassadors Economic & Commercial Forum, click here.