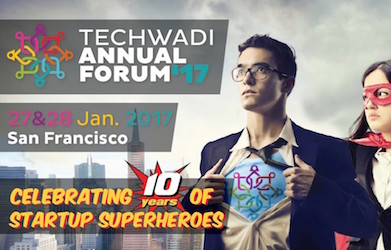 When
January 27, 2017 - January 28, 2017
All day
Where
UCSF Mission Bay Conference Center
1675 Owens Street Suite 251
San Francisco CA
On behalf of TechWadi, ABANA is pleased to extend the following invitation to the 2017 TechWadi Annual Forum.
On January 27, 2017, TechWadi will host a special gala dinner recognizing leaders in the community. From 6-10 pm, join TechWadi to recognize emerging leaders and noteworthy professionals in the community, watch a series of performances by musicians and artists in the Bay Area, and enjoy a plated dinner. Proceeds for the dinner will go towards TechWadi's future sprint acceleration programs, its mentorship program as well as all future networkers/mixers.
On January 28, 2017, TechWadi will bring together a group of new and established entrepreneurs and startups from all around the world. Programming will cover a variety of topics including: HealthTech, FinTech, Big Data, Public & Private Partnerships, Next Generation Commerce and more!

Click here for a full list of speakers and agenda