In the second MENA Outlook Briefing of 2014, the Arabia Monitor team analyses developments in MENA this month which have brought to a head several of the region's ongoing conflicts including in Egypt, Tunisia and Yemen where new chapters in democracy are beginning. The team will also discuss proposals on the table at Geneva II where we expect the status quo to prevail. The worsening of the Syrian crisis and resumption of negotiations with Iran over the nuclear dossier last year were never two independent events and we could begin to see over the next few months a more direct linkage. Economic developments in Saudi Arabia and Lebanon are also on the agenda in addition to an update on our Fixed Income and FX strategy.
8:30 AM (New York EDT) / 1:30 PM (London BST) / 5:30 PM (Dubai GST)
Registration is required and open to all ABANA members. RSVP to rsvp@arabbankers.org to receive dial-in details.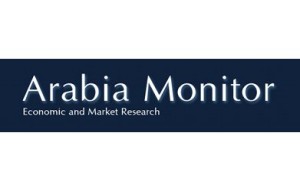 Arabia Monitor is a research firm that provides studies on the economies and financial markets of the Middle East & North Africa (MENA) region, which it views as the new emerging market. Arabia Monitor's perspective is forward looking and places recent developments in the region in a broader context, taking a long term view based on the macroeconomic and financial balance sheet of the Arab countries. A member of the World Economic Forum's Regional Agenda Council on the Middle East & North Africa, Arabia Monitor was founded by Dr. Florence Eid, former Vice President and Chief Economist for MENA at JP Morgan. On the firm's advisory council sits HRH Prince Turki Al Faisal bin Abdul Aziz Al Saud, former Ambassador of The Kingdom of Saudi Arabia to the United Kingdom and the United States; Mr. Victor Chu, board member of the World Economic Forum and former council member of the Hong Kong Stock Exchange and Dr. Richard Debs, founding president and advisory director of Morgan Stanley International and former COO of the Federal Reserve Bank of New York.
Registration
Online registrations are now closed for this event. Contact ABANA at 1 212 599 3030 or rsvp@abana.co for last-minute registrations or questions.