ABANA is pleased to invite its members to join Arabia Monitor's MENA Outlook Conference Call on November 6th.
"No Dearth of Challenges in Trouble Spots"
Topics of discussion:
The US-Iranian rapprochement which could become a double-edged sword for the progress of the Geneva II conference on Syria as Iran's participation remains a point of contention for the Syrian opposition.
How oil output has declined again to 250K bpd from a recovery of 700K bpd a few weeks ago as negotiations with striking oil workers in Libya have taken a turn for the worse. The decline is keeping oil prices above USD 108 pb.
How declining the UN Security Council (UNSC) rotational seat will not diminish Saudi Arabia's clout in the international community on MENA issues but the Arabia Monitor team finds the move is also unlikely to elicit significant reforms at the UNSC.
The rally of emerging markets sovereign credits in October on the back of tightening UST yields. The trend is expected to be maintained given prospective further delays in reducing US monetary stimulus. The JPM EMBI Global Emerging Debt Index is up 2% October MTD and -5% YTD.
8:30 AM (New York EDT) / 1:30 PM (London BST) / 5:30 PM (Dubai GST)
Registration is required and open to ABANA members. RSVP to rsvp@arabbankers.org to receive dial-in details.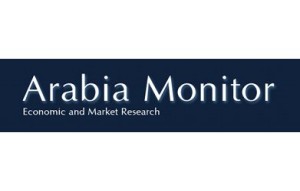 Arabia Monitor is a research firm that provides studies on the economies and financial markets of the Middle East & North Africa (MENA) region, which it views as the new emerging market. Arabia Monitor's perspective is forward looking and places recent developments in the region in a broader context, taking a long term view based on the macroeconomic and financial balance sheet of the Arab countries. A member of the World Economic Forum's Regional Agenda Council on the Middle East & North Africa, Arabia Monitor was founded by Dr. Florence Eid, former Vice President and Chief Economist for MENA at JP Morgan. On the firm's advisory council sits HRH Prince Turki Al Faisal bin Abdul Aziz Al Saud, former Ambassador of The Kingdom of Saudi Arabia to the United Kingdom and the United States; Mr. Victor Chu, board member of the World Economic Forum and former council member of the Hong Kong Stock Exchange and Dr. Richard Debs, founding president and advisory director of Morgan Stanley International and former COO of the Federal Reserve Bank of New York.