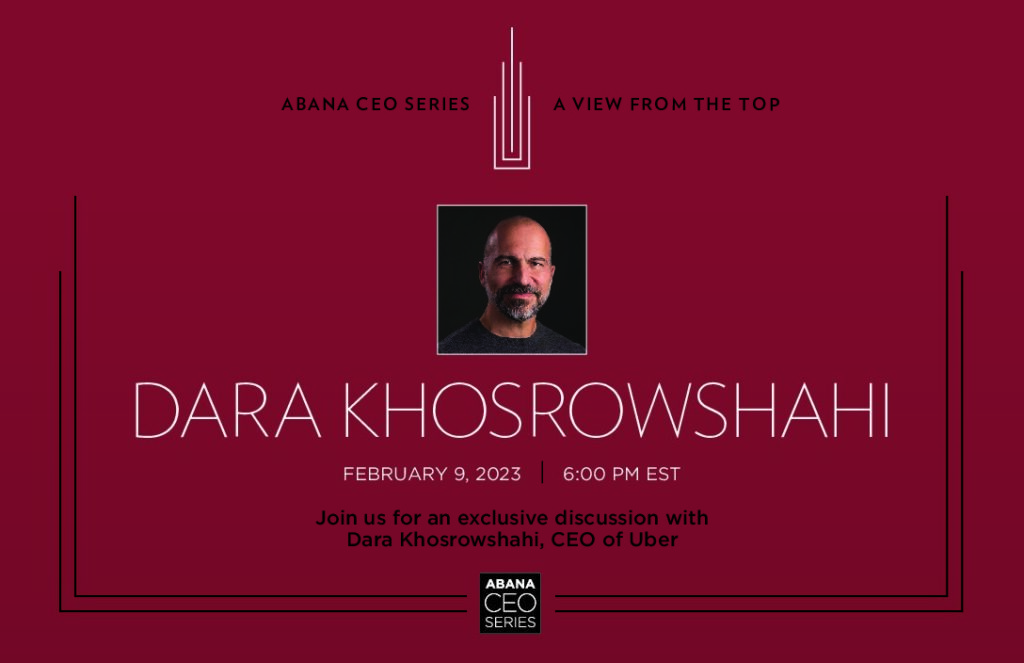 When
February 9, 2023
6:00pm - 8:00pm
Where
Harvard Club of New York City
35 W 44th St
NY New York
ABANA is delighted to invite its community to join an exclusive conversation with Dara Khosrowshahi, the CEO of Uber; moderated by R.A. Farrokhnia, faculty and executive director at Columbia University (Schools of Business & Engineering), and introduced by Joud Abdel Majeid, ABANA Vice Chair, board member and Deputy CFO at BlackRock. Khosrowshahi was called the "Dad of Silicon Valley," by a New York Times Op-Ed columnist, while the company has been identified as one that is helping shape the future of work, or as Khosrowshahi puts it: "reimagining the way the world moves for the better."
Uber, similar to other service companies, was hit hard by the pandemic. However, the company in 2022 turned around and reported results that beat analysts' estimates by more than doubling its revenues, and boosting its shares.  The company today is seeking ways to grow profitably, but also grow sustainably, taking into consideration ESG, social justice, and more.
Join ABANA's in-person Fireside Chat followed by a Reception, to gain insights from our renowned speaker.
This event is part of ABANA's CEO Series.  It is a series offering an exclusive look at how top executives and CEOs are envisioning the future of the finance, tech industries and more. Introduced in 2020, the CEO series has featured David Rubenstein, Hutham Olayan, Larry Fink, and Mohamed El-Erian.
*Please note that this event will be held under Chatham House rule.
Registration
Online registrations are now closed for this event. Contact ABANA at 1 212 599 3030 or rsvp@abana.co for last-minute registrations or questions.