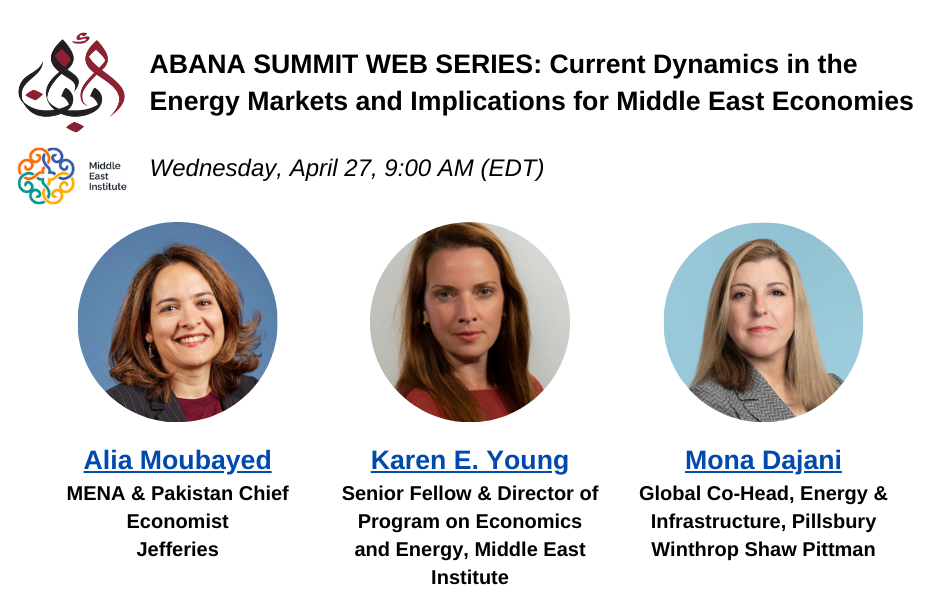 Date April 27, 2022, 9:00 am
On April 27, ABANA and the Middle East Institute provided an energy and economic overview of the Middle East, as part of this year's ABANA Summit Web Series. This panel featured Alia Moubayed, MENA & Pakistan Chief Economist at Jefferies, and Karen Young, Senior Fellow and Director of Program on Economics and Energy at the Middle East Institute, in a discussion moderated by Mona Dajani, Partner & Global Co-Head, Energy and Infrastructure at the global law firm of Pillsbury Winthrop Shaw Pittman.
With the conflict in Ukraine roiling energy and commodities markets, the ongoing nuclear deal negotiations with Iran, and OPEC holding to modest production increases, the Middle East is likely entering a period of higher volatility that will shape the future energy landscape. This conversation covered the impact of the Russia/Ukraine conflict on global energy markets and trade flows. The panelists also focused on the economic and financial impact of this protracted conflict on the GCC and MENA countries amid continued efforts to diversify hydrocarbon dependent economies together with the collateral damage continuing to be caused by the COVD-19 pandemic.
Wednesday, April 27 | 9 AM (New York) | 2 PM (London) | 4 PM (KSA)