The last ABANA-YALA Speakers in Finance & Business event of 2013 features Ahmad Atwan, Senior Portfolio Manager, Morgan Stanley Global Infrastructure Fund, and Chris Cheney, Executive Director, Global Industries Group at Morgan Stanley. Moderated by Markus Fischer, Columbia Business School MBA Candidate, 2014.
The ABANA-YALA Speakers in Finance and Business is a speaker series co-hosted by the Arab Bankers Association of North America and the Young Arab Leaders Association of Columbia Business School. Held on the campus of Columbia University, the series features some of the most prominent Arab and Arab-American professionals in finance and business.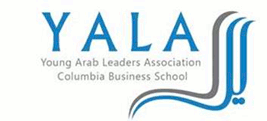 Registration
Online registrations are now closed for this event. Contact ABANA at 1 212 599 3030 or rsvp@abana.co for last-minute registrations or questions.