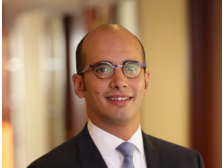 When
February 2, 2023
6:00pm - 7:30pm
Where
Wafra Capital Partners
350 Park Avenue
New York NY
This ABANA in the Boardroom event will be hosted by Member Adel A. Alderbas, Chief Investment Officer of Wafra and serves on Wafra's Management Committee.
Mr. Alderbas oversees the firm's investment activities and leads investments in private real asset investments across infrastructure and alternative real estate, in addition to strategic investments in financial services firms.
Mr. Alderbas joined Wafra in 2007 and currently serves on the boards of Vantage Data Centers, Global Container International and Capital Constellation.
Mr. Alderbas earned a BS with honors from Purdue University and an MBA from Harvard Business School.
Registration