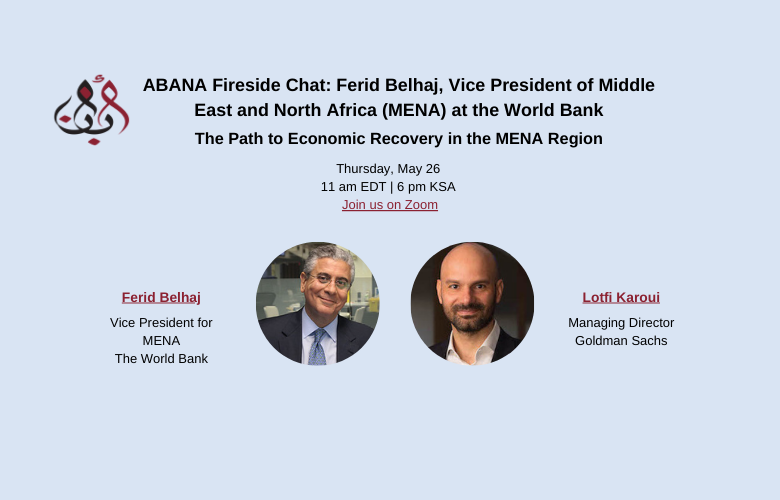 Date May 26, 2022, 11:00 am
The Path to Economic Recovery in the MENA Region
ABANA is delighted to invite its community to join an exclusive one-on-one conversation between Ferid Belhaj, World Bank Vice President of Middle East and North Africa (MENA); and Lotfi Karoui Managing Director and Chief Credit Strategist at Goldman Sachs, to unpack the economic recovery path of the MENA region in the aftermath of COVID-19.
In 2022, the World Bank continued to support operations that cushion the impacts of COVID-19 on health and social protection systems to lay the foundations for recovery.  Since the start of the COVID-19 crisis, the World Bank has provided nearly $2 billion in financing and technical assistance to our partner countries in the MENA for social protection. The World Bank financed the procurement of over $600 million of vaccines.
At the same time, to respond to the dynamic spillover challenges caused by the war in Ukraine, the World Bank is extending its support to MENA countries to ensure food security and social protection for the most vulnerable, in the near term, while strengthening the resilience and sustainability of food production and distribution systems in the longer term, with a view to balancing public and private sector interventions to safeguard market functionality.
Get the insights from our renowned speakers with our ABANA fireside chat.
Thursday, May 26th
11 am EDT | 6 pm KSA.