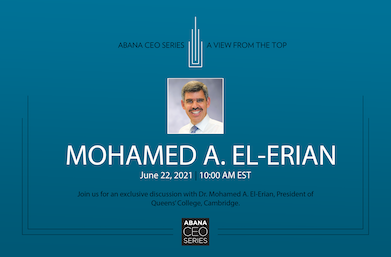 Date June 22, 2021, 10:00 am
ABANA is delighted to announce a one-on-one conversation with Mohamed A. El-Erian, President of Queens' College, Cambridge, Chief Economic Advisor at Allianz, Chair of Gramercy Fund Management and the Rene M. Kern Professor of Practice at The Wharton School.
The private event will be held virtually on June 22nd at 10:00 AM (EST).
Please email [email protected] if you would like to RSVP for the event, or need any additional information.