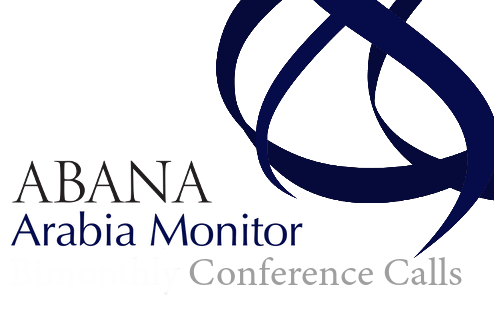 Date March 1, 2017, 9:30 am
ABANA invites you to participate in our monthly conference call in collaboration with Arabia Monitor.
9:30 am (New York, GMT-04:00), 2:30 pm (London, GMT+01:00), 5:30 pm (Abu Dhabi, Muscat, GMT+04:00), 4:30 pm  (Amman, GMT+03:00)


By RSVPing to this call you agree to provide your contact information to Arabia Monitor. Arabia Monitor may contact you directly following the call.
Saudi Arabia's Tadawul has appointed Sarah Al-Suhaimi as first female head of the Saudi Stock Exchange. How significant is this?

How will the new oil & gas fields discovery in Iran impact production, consumption and export levels?

What are the key highlights of the recent cabinet reshuffle in Egypt? How do we expect it to enhance FDI prospects?

How will the resumption of ties with Saudi Arabia following Aoun's visit to the kingdom in January impact the tourism & hospitality industry?

What is the benefit for Iran, Egypt and the UAE of their inclusion into the China-Pakistan Economic Corridor?
The ABANA-Arabia Monitor Monthly Conference Call Series is led by Arabia Monitor's CEO and Chief Economist Dr. Florence Eid-Oakden, a respected authority on the economy and geopolitics of the MENA region. Dr. Eid-Oakden is joined by a team of analysts to provide insights into emerging issues in and affecting the region. Calls are open to all ABANA members.
*Please note that the title and content of the call are subject to change to reflect and include the most recent events affecting the region.