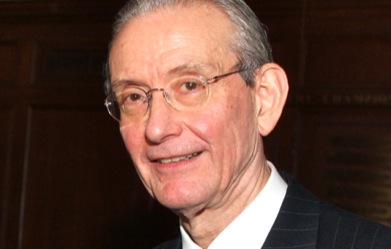 Chairman, President & Chief Executive Officer
Citibank N.A.
William R. "Bill" Rhodes is Chairman, President and Chief Executive Officer, Citibank N.A.; Chairman, President and Chief Executive Officer, Citicorp Holdings Inc.; and Senior Vice Chairman, Citi.
Mr. Rhodes is the Senior International Officer for Citi.  He has specific responsibilities for client relationships worldwide, as well as for relationships with governments and other official institutions.  He is a member of Citi's Operating and Management Committees.
Mr. Rhodes gained a reputation for international financial diplomacy in the 1980s because of his leadership in helping to manage the external-debt crisis that involved developing nations and their creditors worldwide.  During that period and in the 1990s, he headed the advisory committees of international banks that negotiated debt-restructuring agreements for Argentina, Brazil, Jamaica, Mexico, Peru, and Uruguay.  In 1998, when the Republic of Korea experienced liquidity problems, he chaired the international bank group that negotiated the extension of short-term debt of the Korean banking system.  In early 1999, at the request of the government of Brazil, he acted as worldwide coordinator to help implement the maintenance of trade and interbank lines by foreign commercial banks to Brazil.
Mr. Rhodes is a Director of ConocoPhillips; a Director of Banamex; a Director of the Private Export Funding Corporation; First Vice Chairman of the Institute of International Finance; Chairman of the Americas Society and Council of the Americas; Chairman of the U.S.-Korea Business Council; a Director of the U.S.-Russia Business Council; a Director of the U.S.-Hong Kong Business Council; a member of South African President Thabo Mbeki's International Advisory Board and Colombian President Uribe's Advisory Board; a member of the Inter-American Development Bank's Private Sector Advisory Board; a member of the International Policy Committee of the U.S. Chamber of Commerce; and a member of the Board at the Foreign Policy Association.  He is also a member of the Council on Foreign Relations, The Group of Thirty and The Economic Club of New York.
Mr. Rhodes is a Governor and Trustee of The New York-Presbyterian Hospital; a member of the Lincoln Center Consolidated Corporate Fund Leadership Committee; and a member of the Metropolitan Museum of Art Business Committee and Chairman's Committee.  He is a member of the Board of Overseers of the Watson Institute for International Studies at Brown University and Chairman Emeritus of the Board of Trustees of the Northfield Mount Hermon School.
He has received decorations and honors from various governments and institutions, including an Honorary Doctorate in Humane Letters from his alma mater Brown University, Chevalier and Officer of France's Legion of Honor, decorations from Korea, Brazil, Mexico, Argentina, Venezuela, Colombia and Jamaica, and multiple awards from not-for-profit organizations in recognition of his contributions to international banking and finance.
Mr. Rhodes joined Citibank in 1957 after graduating from Brown University.
Profile as of 5/12/2008