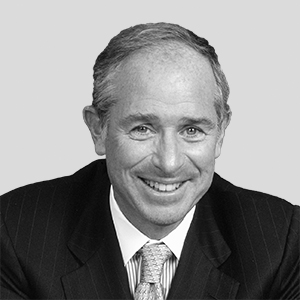 Chairman, CEO & Co-Founder
Blackstone
Stephen A. Schwarzman is Chairman, CEO and Co-Founder of Blackstone, one of the world's leading investment firms with $684 billion Assets Under Management (as of June 30, 2021). Mr. Schwarzman has been involved in all phases of Blackstone's development since its founding in 1985. The firm has established leading investing businesses across asset classes, including private equity, where it is a global leader in traditional buyout, growth equity, special situations and secondary investing; real estate, where it is currently the largest owner of property in the world; hedge fund solutions, where it is the world's largest discretionary hedge fund investor; and credit, where it is a global leader and major provider of credit for small, middle-market and other companies. Blackstone has also recently launched major new businesses dedicated to infrastructure and life sciences investing, as well as delivering the firm's investment management expertise and products to insurance companies.
Mr. Schwarzman is an active philanthropist with a history of supporting education, as well as culture and the arts, among other things. In 2020, he signed The Giving Pledge, committing to give the majority of his wealth to philanthropic causes. In both business and philanthropy, Mr. Schwarzman has dedicated himself to tackling big problems with transformative solutions. In June 2019, he donated £150 million to the University of Oxford to help redefine the study of the humanities for the 21st century. His gift – the largest single donation to Oxford since the renaissance – will create a new Centre for the Humanities which unites all humanities faculties under one roof for the first time in Oxford's history, and will offer new performing arts and exhibition venues as well as a new Institute for Ethics in AI. In October 2018, he announced a foundational $350 million gift to establish the MIT Schwarzman College of Computing, an interdisciplinary hub which will reorient MIT to address the opportunities and challenges presented by the rise of artificial intelligence, including critical ethical and policy considerations to ensure that the technologies are employed for the common good. In 2015, Mr. Schwarzman donated $150 million to Yale University to establish the Schwarzman Center, a first-of-its-kind campus center in Yale's historic "Commons" building, and also gave a founding gift of $40 million to the Inner-City Scholarship Fund, which provides tuition assistance to underprivileged children attending Catholic schools in the Archdiocese of New York. In 2013, he founded an international scholarship program, "Schwarzman Scholars," at Tsinghua University in Beijing to educate future leaders about China. At over $575 million, the program is modeled on the Rhodes Scholarship and is the single largest philanthropic effort in China's history coming largely from international donors. Mr. Schwarzman is Co-Chair of the Board of Trustees of Schwarzman Scholars. In 2007, Mr. Schwarzman donated $100 million to the New York Public Library on whose board he serves.
In 2019, Schwarzman published his first book What It Takes: Lessons in the Pursuit of Excellence, a New York Times Best Seller which draws from his experiences in business, philanthropy and public service.
Mr. Schwarzman is a member of The Council on Foreign Relations, The Business Council, The Business Roundtable, and The International Business Council of the World Economic Forum. He is a former co-chair of the Partnership for New York City and serves on the boards of The Asia Society and New York-Presbyterian Hospital, as well as on The Advisory Board of the School of Economics and Management at Tsinghua University, Beijing. He is a Trustee of The Frick Collection in New York City and Chairman Emeritus of the Board of Directors of The John F. Kennedy Center for the Performing Arts. In 2007, Mr. Schwarzman was included in TIME's "100 Most Influential People." In 2016, he topped Forbes Magazine's list of the most influential people in finance and in 2018 was ranked in the Top 50 on Forbes' list of the "World's Most Powerful People." The Republic of France has awarded Mr. Schwarzman both the Légion d'Honneur and the Ordre des Arts et des Letters at the Commandeur level. Mr. Schwarzman is one of the only Americans to receive both awards recognizing significant contributions to France. He was also awarded the Order of the Aztec Eagle, Mexico's highest honor for foreigners.
He is also the Former Chairman of President Trump's Strategic and Policy Forum, which was charged with providing direct input to the President of the United States from business leaders through a non-partisan, non-bureaucratic exchange of ideas.
Mr. Schwarzman holds a B.A. from Yale University and an M.B.A. from Harvard Business School. He has served as an adjunct professor at the Yale School of Management and on the Harvard Business School Board of Dean's Advisors.